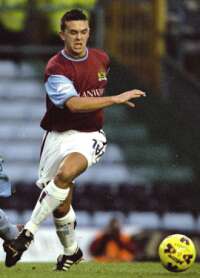 Paul Weller - back after suspension
When Rushden & Diamonds visited the Turf earlier in the season for the Worthington Cup 1
st
round tie Stan decided to give some of the fringe players a game, in fact we made six changes from the side that had beaten Wimbledon on the previous Saturday. It didn't work out and we lost the game 3-2 despite introducing Paul Cook, Glen Little and Ian Moore at half time.
It won't be like that tomorrow though and Sam Ellis highlighted that fact yesterday when he said we would be putting out our strongest team possible. This is a game that must be taken seriously, never mind all this claptrap of concentrating on the league. We would like a good cup run if possible and tomorrow's tie does give us a good chance of at least reaching the 4th round.
We achieved that a couple of years ago but if we were just able to go a round further and maybe make the last 16 into Round 5 it would be the first time for 19 years, that season we went out in the 6th round.
What will be the strongest team though? Stan has three players available to him that weren't available last time we took to the field at Manchester City. Paul Weller returns having served a one match suspension and Paul Cook and Andy Payton are both back in the squad after returning from loan spells at Wigan and Blackpool respectively.
I still think it might be same again though and that would mean starting with the same eleven who started at Maine Road, namely Nik Michopoulos, Dean West, Ian Cox, Arthur Gnohere, Lee Briscoe, Glen Little, Kevin Ball, Tony Grant, Alan Moore, Ian Moore, Gareth Taylor. That would leave Weller, Cook and Payton looking for places on the bench alongside Luigi Cennamo, Gordon Armstrong, Lenny Johnrose, Tony Ellis and Dimitri Papadopoulos.
Cennamo will take the sub keeper role and I do expect both Weller and Cook to make the sixteen leaving the others looking to fill the other two places.
Julian Dicks - doubtful
Canvey Island have one major fitness problem and that is their best known player, former West Ham and Liverpool defender Julian Dicks. He retired from the professional game through injury and took up golf, with little success, professionally. He returned to football during this season with Canvey Island at the age of 33.
However he was injured in the 2nd round win over Northampton and has been out of the side since. He is rated at 50/50 to make it tomorrow and has already said he is gunning for Glen Little.
The Canvey Island team that beat Aldershot Town 3-1 last Saturday in their last league game was: Ashley Harrison, John Kennedy, Chris Duffy, Ben Chenery, Steve Ward, Micky Bennett, Paul Cobb, Mark Stimson, Lee Boylan, Spencer Knight. Subs not used: Adam Tanner, Ian Thompson, Wayne Vaughan.
We have more information on some of the Canvey Island players along with manager and coach in our Match Preview.