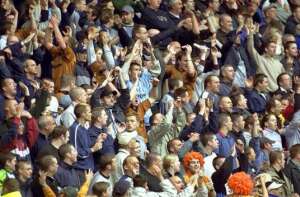 Wolves fans - set to fill the Cricket Field Stand
When we won promotion in May 2000 one thing we did expect to see was more away supporters in the Cricket Field End at the Turf. No longer would there be the Colchesters, the Bournemouths or the Oxfords but clubs such as Birmingham, Nottingham Forest and the two Sheffields.
Somehow it hasn't quite worked out and Sunday saw only the second away support this season of over 2,000. There are no available figures as yet but it was probably around 3,000. The other was Manchester City and they had a following of 3,945 and that was virtually a full stand.
Contrast that with the rest that has seen only three other games attract an away crowd of four figures, 1,452 from West Brom, 1,028 from Sheffield Wednesday and a very creditable 1,015 from Rotherham. The rest quite frankly has been poor. The lowest so far is the 202 Rushden & Diamonds fans that showed for the Worthington Cup game and the lowest in the league was the grand total of 256 from Watford.
Even including the hefty City following the average away support in the league up to and including the Nottingham Forest game is a paltry 813 and nine of those seventeen games attracting less that 500 away fans.
"Rip off", said the Preston fans but on the two occasions we have been charged £19 we did take 3,107 to Bradford City and 2,523 to Nottingham Forest. In fact up to and including the visit to Crewe our away support has fallen below 1,000 just twice at Gillingham and Watford for evening games in the South East. Our biggest was the 5,208 we took to Deepdale and I'm sure there would have been as many at Maine Road had tickets been available. The average away following of Clarets is 2,083.
Back to the question of whether the Cricket Field Stand will ever be full again and the answer is yes. Finally we have found a club who are going to fill it. Wolves have now put up the SOLD OUT notices for their game against us at the Turf a week on Saturday and that should ensure the biggest home gate of the season.
To make sure we don't get used to it though Gillingham will be our visitors the week after.