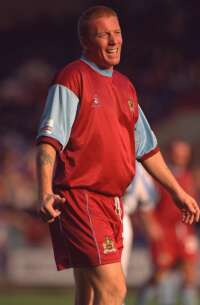 Reserve team boss Ronnie Jepson
We have played a game less than some of those above us and if we were to win our game in hand and Rotherham failed to win theirs then we would go second just a point behind Tranmere Rovers who lead the table.
Apart from the odd hiccup it has been a good season so far for the reserves even though Ronnie Jepson can't possibly know which players he will have at his disposal from week to week. Last night saw a strong Clarets line up but depending on injuries and first team fixtures it is sometimes a very inexperienced line up.
Just before Christmas for the home game against Preston, which was drawn 2-2, we asked you to Roll up for the Reserves and you did in no uncertain terms. It looks like it is time to give the lads a bit more support again next week and let's see if we can push them towards the top of the league.
Last night's report