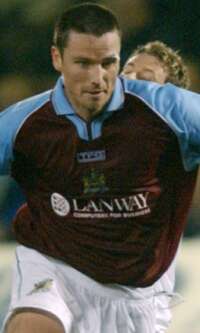 Steve Davis - out with knee injury
Although Arthur Gnohere and Mark McGregor are available again after completing suspensions we will be without Steve Davis (knee), Lee Briscoe (groin) and Paul Cook (shoulder) this weekend and possibly for some time.
It has been a dreadful year for Steve Davis and this will be the fifth injury to rule him out of the side. These injuries mean that he has played in just 22 league games since the end of October last year and it is forecast that he will be out for at least eight weeks this time with a knee injury. Just like last year he is now in a brace.
Lee Briscoe looks set to join him in the treatment room after suffering a groin injury in the defeat against Rotherham and that was the reason for his strange behaviour in the dug out. Suggestions are that Brisser will be out well into the New Year.
Another midfielder Paul Cook could also be out. He suffered a shoulder injury that forced him off just before half time in the home win against Norwich. He has played on with the injury but it could require surgery.
Stan said on Saturday that he had just 17 players available, the 16 in the squad plus Stretch Armstrong. Even with the players returning from suspension we are down once again to 16. One more injury and one of the youngsters will have to take a place on the bench.
We can just hope that Skip, Brisser and Cooky are fit again soon.