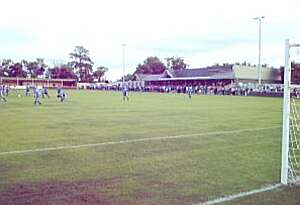 Solihull Borough's Damson Park
As is the case with a number of clubs, thankfully not Burnley, our opponents tonight Birmingham City choose to play their home reserve team games away from home and Damson Park is their chosen venue.
If you are thinking of going to the game then please visit the SOLIHULL BOROUGH WEB SITE and click on Directions under Club Info down the left hand navigation bar.
The Clarets will be going into the game with a much changed side from the one that lost at home to Sheffield United, in fact it shows five changes. Andy Payton is the only member of the sixteen strong squad to have ever started a first team game for the Clarets with four others having made sub appearances.
It just shows how far down the pecking order Burnley's only natural goal scorer is now but at least he is now getting a game. Surprisingly Dimitri Papadopoulos doesn't make the squad after playing for 45 minutes on Monday.
The Burnley teams is: Luigi Cennamo, Andrew Leeson, Liam Eves, Earl Davis, John Williamson, Joel Pilkington, Mark Rasmussen, Andrew Waine, Andy Payton, Tony Ellis, Matthew O'Neill. Subs: Anthony Shandran, James Salisbury, Paul Scott, Richard Chaplow, Damien Hindle.


The Birmingham side is considerably more experienced than the Clarets and includes a player making his first public appearance for some time. Former Burnley target Dele Adebola hasn't featured since April last year at any level because of injury and after 45 minutes in a behind doors friendly a couple of weeks ago plays his first reserve team game in his comeback tonight.
He is joined by former Sheffield players Graham Hyde (Wednesday) and Curtis Woodhouse (United) as well as John McCarthy and Tresor Luntala. Woodhouse and Hyde were both in the first team squad that played at Turf Moor recently whilst Jerry Gill and Joey Hutchinson both played when we won 3-2 at St Andrew in September.
The Birmingham team is: Clint Davies, Jerry Gill, Joey Hutchinson, Sonny Parker, Tony Capaldi, John McCarthy, Tresor Luntala, Curtis Woodhouse, Graham Hyde, Craig Fagan, Dele Adebola. Subs: Christopher Ward, Ross Diamond, Peter Gilbert, Neil Barnes, Mark Allen.
Clarets Mad will be at the game and will have half time details followed by the final score and details immediately after the final whistle.