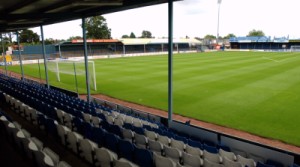 Layer Road - will stage Championship football for the first time

Birmingham, Sunderland and West Brom had already booked their places following relegation from the Premiership, and all three of them returning after short spells in the higher league. Birmingham's run of four successive seasons is the longest but for the other two it is just one year and two years respectively.


It's been a remarkable climb for Southend with two promotions in two seasons coming just eight years after two successive relegations had seen them hit the basement division. We played them in their last relegation season, as we just about escaped under Chris Waddle's management and we last played them at our current level in the 1994/95 season.


We lost down at Roots Hall but had our biggest win of the season at the Turf when they turned up in the wrong kit and we lent them our old jade and black halves. We won it 5-1 and they are more than welcome to borrow it again next season, I'm sure we can find some.


As for Colchester, they too have won back to back promotions. We've never played them at a higher level, simply because Colchester have never played higher than in the third tier of English football. Prior to this season their best ever was fifth place, most recently in the 179/80 season.

Our last meetings with them were during our promotion season of 1999/2000. The home game earlier in the season is memorable for Andy Payton's first Burnley hat trick, scoring all three in a 3-0 win, whilst we completed the double over them with a 2-1 win at Layer Road when Steve Davis scored both Burnley goals in Ian Wright's only Burnley start away from Turf Moor.


Southend and Colchester will be accompanied by one of Brentford,
Huddersfield, Barnsley or Swansea who will take part in the end of season play offs, and that final will be over the Bank Holiday weekend in three weeks time.


Although not directly of our concern, I must refer to the news from the bottom of League One yesterday and the relegation of Franchise, their second relegation in two years. It came a year too late, they only escaped last season because of the ten point deduction suffered by Wrexham.


But better late than never, and good to see that this dreadful club, who will have league games against Accrington Stanley next season, are now only one step away from leaving the Football League altogether.


Back in our division the play offs are underway and I think we can safely assume that Watford have more than one foot in the final. They turned on a superb display yesterday to win 3-0 at Crystal Palace and surely that must be enough to see them to Cardiff. Who they will play is still anyone's guess after Leeds and Preston drew 1-1 at Elland Road.


Billy Davies, for some strange reason, was parading up and down at the end as if his side were already promoted, he reached the dizzy heights of 5ft 6ins after one gigantic leap. They are favourites to take on Watford now but if someone would give Robbie Blake the chance to play in an important game then Leeds might just clinch it yet.


Finally, and again nothing to do with the Championship, it was probably somewhat predictable that Oxford United would be the side relegated yesterday into the Conference. They have been in the Football League for 44 years since they replaced – yes, you've guessed it, Accrington Stanley.