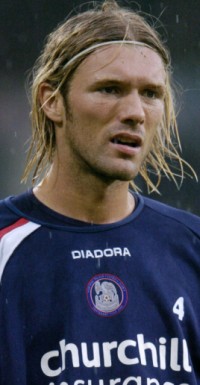 Darren Ward - scored again for Palace
It is so tight but it is the supposed bigger clubs who are starting to take the places and three of them are currently occupied by clubs who have been in the Premiership within the last two years. The exception is Watford and I suspect it will be only a matter of time before they start to slide out of contention.
They have won just once in their last eight league games and are being caught by the pack after having previously been well clear. Their latest defeat came against Crystal Palace who have won all three of their games this week. Central defender Darren Ward scored for the second successive game but after Watford equalised it took an Andy Johnson penalty for them to win it.