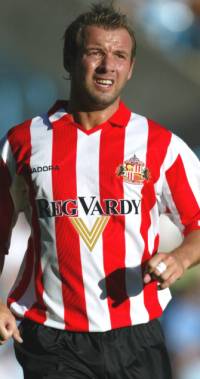 Marcus Stewart - scored Sunderland's winner

The north east club have climbed to within one point of second place Wigan thanks to a Marcus Stewart goal just before half time. Manager Mick McCarthy was particularly pleased for Stewart after recently being given stick from the home crowd.



He was not so pleased with the stadium scoreboard revealing that Ipswich had lost when in fact they had earned themselves a point at Reading. That looked almost certain to end goalless as it went into stoppage time but then there was almost noise at the Madejski library as Ipswich went in front through Darren Bent before Reading went straight down and equalise with a goal from Ivar Inigmarsson.



The point was enough to keep Ipswich at the top with Wigan only drawing against Watford reserves. Ray Lewington decided to rest over half of his side ahead of the Carling Cup semi-final against beleaguered Liverpool but they were still able to get themselves a point at the almost deserted Concrete Jungle.



With Ellington and Roberts firing blanks and Blake sat on a bench in Birmingham it needed to goals from Lee McCulloch to earn a point after the unrecognisable Hornets had twice gone in front with goals from Bruce Dyer and Danny Webber.



Our local neighbours Preston have sneaked into the top six almost unnoticed with two of the recent signings Chris Sedgwick and Patrick Agyemang getting the goals in a 2-0 win at Plymouth.



That's five wins and two draws in the last seven for PNE, they haven't lost since we beat them back in early December and that has seen them climb ten places in the table.



There's no such good fortune for Plymouth though and they have just four points from their last six games and have dropped to 20th in the table. They are really on a slide now and it would be no surprise to see them facing a massive struggle to stay in this division.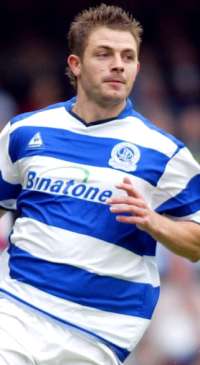 Jamie Cureton - scored the first goal for QPR

Coventry are the side just outside the bottom three now after a 2-1 home defeat against QPR. New manager Micky Adams felt that a major problem was the style of football they were playing. Jamie Cureton gave QPR an early lead but Adie WIlliams brought Coventry back into it with a second half equaliser.


It took a stoppage time goal to beat them, with Georges Santos hitting the winner for the visitors. It only just crossed the line and I can think of at least one assistant referee who would not have spotted it, thankfully the referee this time bailed out his hesitant flag waver and gave the goal himself.


Manager Ian Holloway is in discussions over a new deal and he had no real concern for defender Andrew Davies who took a knock on the head. Holloway said, "I told him he looks like a centre half now. He was far too pretty with all that blond hair."


It was Cardiff's win against the Clarets that pushed both Plymouth and Coventry nearer to the trap door but they were both helped by the bottom three who couldn't muster a win between them.


Gillingham were the only losers of the three though, going down 2-0 at Leicester. Both goals came in the first half hour through David Connolly and a Nayron Nosworthy own goal.


Gills' boss Stan Ternent said after the game, "The object of the exercise in a football match is, you have two forty-five minute sessions and you have to perform in both of them.


"Unfortunately by our standards we were off the pace in the first half and in the second we were OK."


Nottingham Forest are still below them but reduced the deficit to four points with a 0-0 draw at Brighton whilst Rotherham drew 1-1 at Crewe. Andy White equalised for the home side after former Claret John Mullin had given Rotherham a first half lead with his first goal of the season.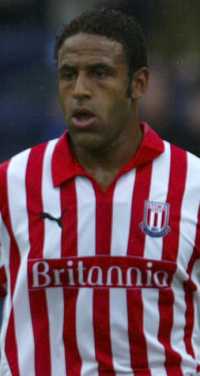 Wayne Thomas - his own goal gave Leeds a 1-0 win at Stoke

Back in mid December Ade Akinbiyi scored a winner for Stoke at Brighton, the Potters have not scored a league goal since. They drew their next game 0-0 at home to Preston and have since lost five successive games 1-0.



This time it was at home to Leeds although a Stoke player did at least find the net on this occasion with the Leeds winner coming from a Wayne Thomas own goal on 72 minutes.



No wonder Tony Pulis is looking for a new striker to introduce into his ale house football team but as we write West Brom striker Rob Hulse has turned them down. It is no real surprise, they made the mistake of letting him watch them first.



Glenn Hoddle's Wolves won again with Seol hitting a last minute winner at Millwall after a Dennis Wise penalty had cancelled out their first goal whilst poor West Ham lost at home again, and deserved to, with both Derby goals scored by Grzegorz Rasiak in a 2-1 win on Sunday.



It is West Ham's third successive defeat in the league and puts manager Alan Pardew under enormous pressure. It would be no surprise to see him leave in the very near future.



The transfer window might well be open for the Premiership but it has hardly had an impact on our clubs so far.



Leeds have taken Liverpool keeper Paul Harrison having sold Scott Carson to the Anfield club whilst Manchester United's Chris Eagles has flown into Watford for a loan spell.



The only other club to bring in a player in the last couple of weeks is Plymouth who have taken Hungarian midfielder Akos Buzsaky on loan from Porto.



It's cup week and only Leeds seem to be bothered about playing league fixtures, they have two in the next few days. They are shown below as is the full fixture list for the first weekend in February.
The Weekend Results

Saturday 22nd January

Brighton 0 Nott'm Forest 0

Plymouth 0 Preston 2

Cardiff 2 Burnley 0

Reading 1 Ipswich 1

Coventry 1 QPR 2

Stoke 0 Leeds 1

Crewe 1 Rotherham 1

Sunderland 1 Sheffield Utd 0

Leicester 2 Gillingham 0

Wigan 2 Watford 2

Millwall 1 Wolves 2

.

Sunday 23rd January

West Ham 1 Derby 2

.
The Weekend Stats

Biggest win

Cardiff 2-0 v Burnley (home)
Leicester 2-0 v Gillingham (home)
Preston 2-0 v Plymouth (away)

Total goals scored

25

Player scoring most goals

2 - Lee McCulloch (Wigan)

Highest Attendance

30,347 - West Ham v Derby

Lowest Attendance

6,382 - Crewe v Rotherham

Total Yellow Cards

35

Total Red Cards

0

Most cards in a game

Coventry v QPR (7Y)
The leading scorers (league only)

18

Dean Ashton (Crewe) - now with Norwich

17

Nathan Ellington (Wigan)

15

Darren Bent (Ipswich)

14

Paul Furlong (QPR)

13

Shefki Kuqi (Ipswich)
Jason Roberts (Wigan)

12

Heidar Helguson (Watford)
Dave Kitson (Reading)
Kenny Miller (Wolves)

11

Richard Cresswell (Preston)
Stephen Elliott (Sunderland)
David Healy (Leeds) - 5 with Preston
Grzegorz Rasiak (Derby)
Teddy Sheringham (West Ham)

10

Robbie Blake (Burnley) - now Birmingham
Marlon Harewood (West Ham)
Lee McCulloch (Wigan)
Danny Webber (Watford)

9

Peter Thorne (Cardiff)

8

Carl Cort (Wolves)
Andy Gray (Sheffield Utd)
Barry Hayles (Millwall)
Paul Shaw (Sheffield Utd) - 2 with Rotherham
Tommy Smith (Derby)
Marcus Stewart (Sunderland)

7

Ade Akinbiyi (Stoke)
Mark Rivers (Crewe)
Paul Wotton (Plymouth)
The Week's Fixtures

Wednesday 26th January

Derby v Leeds

.

Saturday 29th January

Leeds v Brighton

.

Friday 4th February

Wolves v Sunderland

.

Saturday 5th February

Brighton v Derby

Reading v Plymouth

Burnley v Leeds

Rotherham v Nott'm Forest

Leicester v Crewe

Sheffield Utd v Ipswich

Millwall v QPR

Watford v Gillingham

Preston v Coventry

Wigan v Stoke

Sunday 6th February

West Ham v Cardiff

.