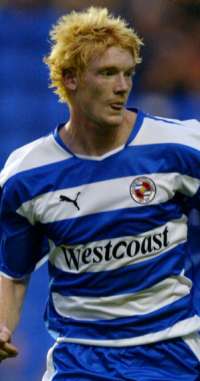 Dave Kitson - out with a serious injury

We know all about Sunderland's win and they are behind the 2nd place Tractor Boys only on goal difference whilst Reading's home win against QPR keeps them just a couple of points behind the Mackems.



Reading are something of a distasteful outfit and again their match was full of controversy as they got on with their cheating. QPR's Jamie Cureton was sent off after an incident with Reading's Steve Sidwell. The home player conned his former team mate with an illegal shout which Cureton fell for.



Furiously he reacted to it by kicking out at Sidwell and was rightly sent off by Steve Cotterill's mate Richard Beeby.



But what about the self righteous Dave Kitson, he who thought it was in the best interests of the game to slag off the Clarets after we had earned a 0-0 draw down at the Madejski.

If you recall Kitson was carded that day for blatant cheating when he scored with his hand and tried to claim the goal.



Well the cheat was at it again on Saturday and was caught out again as he dived in the box to win a penalty. I'm not sure how he has the nerve to criticise others who at least are playing the game fairly.



I don't like to see any players get injured but Kitson won't be cheating for a while now, he was substituted with what looked like a cruciate ligament injury.



QPR were the better side and their manager Ian Holloway bemoaned their recent bad luck saying, "If I fell in a tub of boobs right now I would come out sucking my thumb."



Sheffield United came from behind to beat strugglers Cardiff, it was made easier for them when Graham Kavanagh got himself sent off for two bookable offences.



The Bluebirds are still just outside the bottom three but it is getting closer following the weekend results. They would have been down there had David Connolly not equalised for Leicester in stoppage time at Forest to rob the home side of all three points.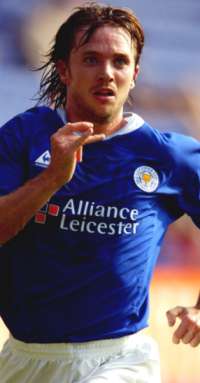 David Connolly - scored the late equaliser for Leicester

It was justice though, Leicester had been the better side and should have had the game wrapped up never mind chasing a point saving goal at the end. It's not happening for Forest, David Johnson looked a shadow of his former self up front whilst Gareth Taylor came on as a sub and came back off without contributing much.



Still the internet fans are off Joe Kinnear's back now, what a ridiculous exit from the departing manager this week. He made himself look somewhat ridiculous.



They are still above Gillingham but only on goal difference after the Gills won their first home game under new manager Stan Ternent. It was 3-1 but they left it late with the first goal coming with just twenty minutes to go.



The new man's done well, he's been there ten days now and there is no news of any fall out with Scally as yet. That must be a record for a Gillingham manager.



Our local neighbours Preston got back to winning ways after their defeat at the Turf with a 2-1 win against West Ham and it came courtesy of two strikers from outside the box from Eddie Lewis and Brian O'Neil.



West Ham remain sixth but they have to be considered one of the biggest underachievers in this division right now given the squad they have. Alan Pardew might not be on borrowed time just yet but he must be getting very close to that. He could well be close to the 'Vote of Confidence' from the Chairman. It certainly won't come from the fans who have little time for him.



Glenn Hoddle's first game in charge at Molineux was very close to a disaster as they looked to be heading for a 1-0 defeat to Crewe. Dean Ashton had scored again for the Alex although he did have some nerve claiming it given that it was really a Jolean Lescott own goal.



Just as it looked certain that the home side would be booed off again Carl Cort grabbed a stoppage time equaliser.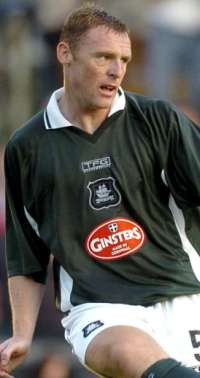 Graham Coughlan - put through his own goal to give Derby the lead at Plymouth

Two previous leaders of the division Plymouth and Watford continue to struggle. Plymouth were beaten 2-0 at home to Derby. Former Blackburn defender Graham Coughlan put through his own goal to give Derby the lead and Mr Karren Brady doubled the advantage in the second half.



Plymouth have now won just once in six games, that coming against the Clarets, but it is even worse for Watford who haven't won any of their last nine league games. A Gary McSheffrey goal right on half time was enough to see them go down to defeat at Coventry.



Elsewhere Stoke won 1-0 at Brighton with a late goal from Ade Akinbiyi (he did actually score this one) and the division's so-called big club Leeds failed to win at home again. This time they drew 1-1 with Millwall with the visitors grabbing a point with a penalty four minutes from time.



One or two clubs have been stocking up for Christmas, bringing in a new player to boost their squads for the rush of four games in nine days.



Preston finally persuaded Chelsea's Portuguese forward Filip Oliviera to sign on loan and he made his debut as a substitute in their win over West Ham who had made Chris Powell's move a permanent one ahead of the game.



It was one in and two out at Brighton. Mark McCammon joined on loan from Millwall but central defender Danny Cullip joined Sheffield United for £250,000 whilst they showed the door to Steve Claridge who went to Brentford. Cullip had turned down the offer of a new deal at the Withdean and Brighton were left with no alternative but to sell. Both McCammon and Cullip made their debuts in new colours over the weekend in our division.



Bjarni Gudjonsson signed for Coventry in the summer but he failed to make an impact and has moved on to Plymouth whilst finally QPR have taken Southampton striker Leon Best on loan.



Apart from the clash between the top two tomorrow that's it until Boxing Day when every club plays. The fixtures and those for two days later are listed below.
The weekend results

Friday 17th December

Brighton 0 Stoke 1

Nott'm Forest 1 Leicester 1

Saturday 18th December

Coventry 1 Watford 0

Reading 1 QPR 0

Gillingham 3 Rotherham 1

Sheffield Utd 2 Cardiff 1

Plymouth 0 Derby 2

Sunderland 2 Burnley 1

Preston 2 West Ham 1

Wolves 1 Crewe 1

Sunday 19th December

Leeds 1 Millwall 1

.
The weekend stats

Biggest win

Gillingham 3-1 v Rotherham (home)
Derby 2-0 v Plymouth (away)

Total goals scored

24

Player scoring most goals

no player scored more than one goal

Highest Attendance

27,102 - Sunderland v Burnley

Lowest Attendance

6,028 - Brighton v Stoke

Total Yellow Cards

33

Total Red Cards

2

Most cards in a game

7 - Leeds v Millwall
The leading scorers (league only)

17

Dean Ashton (Crewe)

14

Natham Ellington (Wigan)

13

Paul Furlong (QPR)

12

Dave Kitson (Reading)

11

Darren Bent (Ipswich)
Jason Roberts (Wigan)

10

Robbie Blake (Burnley)
Shefki Kuqi (Ipswich)

9

David Healy (Leeds) - 5 with Preston
Danny Webber (Watford)

8

Richard Cresswell (Preston)
Stephen Elliott (Sunderland)
Marlon Harewood (West Ham)
Heidar Helguson (Watford)
Kenny Miller (Wolves)
Grzegorz Rasiak (Derby)
Paul Shaw (Sheff Utd) - 2 with Rotherham
Teddy Sheringham (West Ham)

7

Ade Akinbiyi (Stoke)
Carl Cort (Wolves)
Lee McCulloch (Wigan)

6

Andy Gray (Sheff Utd)
Steve Jones (Crewe)
Andy Morrell (Coventry)
Tommy Smith (Derby)
Marcus Stewart (Sunderland)
Paul Wotton (Plymouth)
This week's and the Christmas fixtures

Tuesday 21st December

Ipswich v Wigan

.

Sunday 26th December

Brighton v Gillingham

Plymouth v QPR

Cardiff v Wolves

Reading v Watford

Coventry v Sheffield Utd

Stoke v Preston

Crewe v Burnley

Sunderland v Leeds

Leicester v Rotherham

West Ham v Nott'm Forest

Millwall v Ipswich

Wigan v Derby

Tuesday 28th December

Burnley v Wigan

Preston v Reading

Derby v Millwall

QPR v Crewe

Gillingham v Coventry

Rotherham v West Ham

Ipswich v Stoke

Sheffield Utd v Leicester

Leeds v Plymouth

Watford v Cardiff

Nott'm Forest v Sunderland

Wolves v Brighton