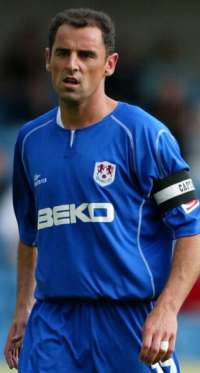 Kevin Muscat - accused by Neil Warnock

Kevin Muscat of Millwall and Sheffield United keeper Paddy Kenny were the two to be shown the red card for violent conduct although Warnock has strongly accused Millwall. He says that Kenny was doing nothing other than defending himself after he had been head butted. He has also asked the question as to why Danny Dichio, not involved in the game, was hitting Sheffield United players over the head with a bottle.



Fuelling it even more Warnock said he had warned his players as to what might happen, as if expecting this at the Den. The partially deaf Theo Paphitis is believed to have seen nothing.



It was 0-0 but it left the Blades without a keeper for the second half, they don't bother with a sub keeper, and they then went 1-0 down to a soft goal. Incredibly they fought back to win it with goals from Andy Liddell and a first ever goal from former Owl Derek Geary.



I'm sure we'll be hearing more on this one and remember Muscat was given a final warning by Millwall after an awful stamping incident at Watford last season – will be interesting to see what action is taken should he be guilty of a head butt.



Back to the football and Paul Scally took over as temporary manager of Gillingham in their key relegation clash at Cardiff. With the score at 1-1 they conceded a goal to a ridiculous penalty decision and Peter Thorne scored from the spot before adding a third.



Scally has offered the manager's job to Chris Kamara but he has turned it down. The new man should be named tomorrow with Dave Bassett and Colin Lee considered to the two he intends to interview again today.



There was further bad news for Gillingham with Nottingham Forest beating QPR 2-1 at the City Ground to climb above them in the table.



Jack Lester got the winner for Forest, his first goal since returning from Sheffield United a couple of weeks ago.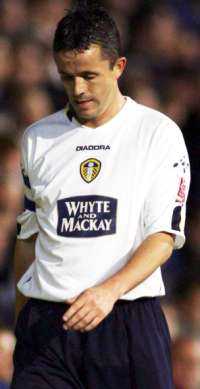 Gary Kelly - own goal in yet another Leeds defeat

Rotherham couldn't build on that win over Leeds and went down 1-0 at Brighton where Daniel Harding was another player to score his first ever league game.



And what of poor Leeds, yet another defeat at Elland Road and yet another string of excuses from Kevin Blackwell who is working really hard at taking over from Craig Brown as the division's whinger.



It was Leicester this time and they lost 2-0 with Gary Kelly grabbing the second with an own goal. I think we are all expected to feel sorry for the joke of a club from West Yorkshire but there doesn't seem to be a lot of sympathy coming from anywhere.



At the other end of the table Ipswich opened the door for Wigan to go back to the top and the Latics took it with what looked like an emphatic win against Preston.



Ipswich went two goals behind at Crewe on Saturday, both coming from the league's leading scorer Dean Ashton. Richard Naylor and Darren Bent scored within four minutes of each other in the second half to earn a point although LBJ thought his side should have won.



Wigan did win but it could have been so much different. It was a fairly even first half and Preston had a goal disallowed for no obvious reason that would have seen them level. Two quick goals in the second half changed it all though and Wigan then hit top form to go on and hit Preston for five.



A red card incident changed the game at Sunderland. Preston referee Graham Salisbury looks to have got it wrong in an incident involving Stephen Caldwell and Luke Chadwick at a time when the game was stopped. The Sunderland defender went off and West Ham went on to take advantage of the man advantage in the second half and won 2-0 with the goals coming from Marlon Harewood and Teddy Sheringham.



Derby had the comeback of the day. When Dele Adebola (yes, Dele Adebola) scored for Coventry with ten minutes to go to make the score 2-0 it looked as though he had secured the three points at Pride Park.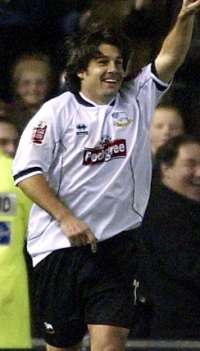 Mr Karren Brady - late equaliser for Derby

It was still 2-0 with two minutes to go but Grzegorz Rasiak and Mr Karren Brady came to the home side's rescue with two late, late goals to earn them a point.



Wolves are still searching for their new boss – the chances of getting either Sir Bobby Robson or 'Arry Redknapp seem to be fading fast. They won't care though at Molineux as long as they get results like the one on Saturday when high riding Reading were beaten 4-1. Madejski's toy were never in it and missed out on an opportunity to close the gap between them and second place.



It would have been a top of the table clash earlier in the season but Watford v Stoke was a fixture between two mid-table sides. Visitors Stoke won it with the only goal of the game scored predictably by Gifton Noel-Williams against his former club.



Young goalkeeper Colin Doyle has joined Forest on loan from Birmingham. He'll act as cover from Paul Gerrard and was on the bench in the win over QPR.



So was Neil Harris who was one of four players through the exit door at Millwall on Friday. He went to Cardiff on loan and made his debut as a substitute against Gillingham coming on for the last fourteen minutes.



Millwall also loaned out Kevin Braniff, Ben May and Charley Hearn to Canvey Island, Brentford and Northampton respectively.



Having played one local derby at Wigan yesterday PNE are set for the Turf this week, it won't just be quite the same without the Weary Whinger.
The weekend results

Saturday 4th December

Brighton 1 Rotherham 0

Nott'm Forest 2 QPR 1

Cardiff 3 Gillingham 1

Plymouth 1 Burnley 0

Crewe 2 Ipswich 2

Sunderland 0 West Ham 2

Derby 2 Coventry 2

Watford 0 Stoke 1

Leeds 0 Leicester 2

Wolves 4 Reading 1

Millwall 1 Sheffield Utd 2

.

Sunday 5th December

Wigan 5 Preston 0

.
The weekend stats

Biggest win

Wigan 5-0 v Preston (home)

Total goals scored

35

Player scoring most goals
2

Dean Ashton (Crewe)
Leon Clarke (Wolves)
Nathan Ellington (Wigan)
Peter Thorne (Cardiff)

Highest Attendance

29,510 - Sunderland v West Ham

Lowest Attendance

6,076 - Brighton v Rotherham

Total Yellow Cards

30

Total Red Cards

3

Most cards in a game
5

Sunderland v West Ham (4Y 1R)
Plymouth v Burnley (5Y)
The leading scorers (league only)

15

Dean Ashton (Crewe)

13

Natham Ellington (Wigan)

12

Dave Kitson (Reading)

11

Paul Furlong (QPR)
Jason Roberts (Wigan)

10

Darren Bent (Ipswich)

9

Shefki Kuqi (Ipswich)
Danny Webber (Watford)

8

Robbie Blake (Burnley)
Richard Cresswell (Preston)
Stephen Elliott (Sunderland)
Marlon Harewood (West Ham)
David Healy (Leeds) - 5 with Preston
Kenny Miller (Wolves)
Teddy Sheringham (West Ham)

7

Heidar Helguson (Watford)
Paul Shaw (Sheff Utd) - 2 with Rotherham

6

Carl Cort (Wolves)
Steve Jones (Crewe)
Lee McCulloch (Wigan)
Andy Morrell (Coventry)
Grzegorz Rasiak (Derby)
Marcus Stewart (Sunderland)
Paul Wotton (Plymouth)
This week's fixtures

Tuesday 7th December

Wolves v Millwall

.

Friday 10th December

West Ham v Leeds

.

Saturday 11th December

Burnley v Preston

QPR v Ipswich

Cardiff v Sunderland

Rotherham v Sheffield Utd

Crewe v Plymouth

Stoke v Coventry

Derby v Nott'm Forest

Watford v Wolves

Leicester v Reading

Wigan v Gillingham

Millwall v Brighton

.