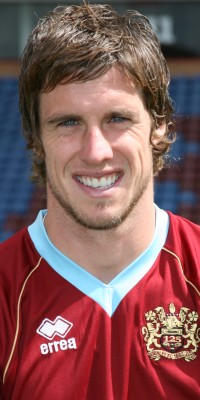 Andy Gray - no offer from Charlton
The Kyle Lafferty speculation has been running for some time before the window opened. The strongest link was with Fulham but that was before Lawrie Sanchez was shown the door, but don't forget Celtic and Wolves who have both previously made offers that have been turned down by the Burnley board.
Now it is the turn of Andy Gray. The tabloid have him going to Cardiff, Charlton and Ipswich but more importantly Burnley manager Owen Coyle has him earmarked for continuing his career right where he is now, at Turf Moor.
"There is always going to be interest in your players because there are some good ones, but we don't want to be losing them," Coyle said.
"Andy Gray is a valuable member of the side and we're not encouraging any bids or offers for him.
"What's going to happen at this stage of the season is that there will be speculation about players at other clubs or your own players. But I'm looking to build a team, not dismantle one.
"There will be times that players leave for whatever reason, but we are looking to keep our best players at our football club. Sometimes people come in with an unbelievable offer that you have to consider, but until such time as somebody makes a bid for one of your players, there isn't a story and there is no bid from Charlton."
Meanwhile the Derek Riordan speculation continues, and the obvious suggestions of a swap with Lafferty going to Celtic, whilst the latest player north of the border to be linked with the Clarets is Oldham born Andrew Driver who plays is football with Hearts.
Only another 22 days to go until the window closes, plenty more of this speculation to come yet.