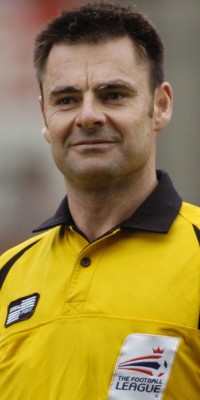 He's certainly not been a stranger to Burnley games since he first refereed us in the 2004/05 season in the home game against Millwall. That was his third season as a Football League referee but he'd had to wait until that season to get a Championship game.
Today will be his 12th Burnley game and, apart from the win at Coventry in January 2008, he's not had any particularly bad games. He's also been handy when it comes to penalties and has awarded us a grand total of six in those games, all of which were converted by six different players.
In that first game Robbie Blake scored from the spot as we beat Millwall and since then Garreth O'Connor v Brighton, Jon Harley v Watford, Andy Gray v West Brom, Chris Eagles v Sheffield United and Graham Alexander v Port Vale have scored penalties.
Ilderton is also a referee not likely to use his cards too much and this season, in 35 games he's shown just 74 yellow cards and six red cards. Of those yellow cards, 32 have gone to home team players and 42 to away team players.
Today will be his 17th Championship game this season and two of those red cards two have come in those games. he sent off Nottingham Forest's Luke Chambers in their 3-0 home defeat against Southampton in January and the following month he dismissed Portsmouth's Dave Kitson as they lost 2-0 at Barnsley.
His last game was Monday's televised clash between Leicester and West Ham at the King Power Stadium, a game West Ham won 2-1 and Gary O'Neil (West Ham) was the only player carded.
Eddie Ilderton is currently 12th in the RATE THE REF Table with a rating of 72.92 out of 100.
The assistant referees are Jason Tyas (West Yorkshire) and Andrew Hutchinson (Cheshire). The fourth official is Philip Dermott (Cheshire).
Previous Burnley Games
Season

Opponents

V

Res

Y

R

Burnley Players Carded

2004/05

Millwall

h

1-0

4

0

n

Branch, Cahill, O'Connor

2005/06

Brighton & Hove Albion

h

1-1

1

0

n

Branch

2005/06

Watford

h

4-1

2

0

n

Akinbiyi, Dyer

2005/06

Coventry City

a

0-1

5

0

n

Hyde, McCann, Ricketts, Sinclair

2006/07

Crystal Palace

h

1-1

4

0

n

Gudjonsson, J O'Connor

2007/08

West Bromwich Albion

h

2-1

2

0

n

Duff

2007/08

Coventry City

a

2-1

7

1

n

Alexander, Blake, Harley, Varga

2010/11

Sheffield United

a

3-3

4

0

n

Rodriguez, Fox

2010/11

Port Vale

h

4-2

2

0

2010/11

Millwall

h

0-3

0

0

2011/12

Nottingham Forest

h

5-1

1

0