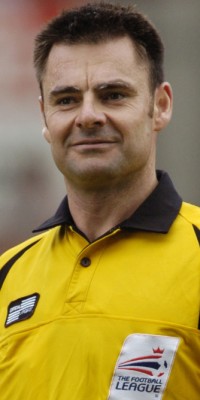 He's no stranger to Burnley games and tomorrow will be his sixth Clarets' fixture since the start of the 2010/11 season and all but one of those, the 3-3 draw at Sheffield United in October 2010, have been at home.
He twice refereed us last season. He was here for the 5-1 win against Nottingham Forest and was then was in charge of our last league game of the season against Bristol City.
He had two decent enough games last season and that's been the pattern of his Burnley games with only one exception, our 2-1 win at Coventry in January 2008. He had a difficult afternoon that day, eventually reducing Coventry to ten men.
Generally, he's not a referee who over uses his cards. Last season he refereed 37 games and he handed out just 79 yellow cards along with six red cards. Two of those red cards were in his 17 Championship games. He sent off Nottingham Forest's Luke Chambers in their 3-0 home defeat against Southampton and also Dave Kitson as Portsmouth went down 2-0 at Barnsley.
He's made a somewhat busier start to the 2012/13 season which has seen his card count already reach 14 yellows and a red in just three games, and the player he sent off was Burnley's Kevin Long who received two yellow cards in Portsmouth's 4-2 defeat at Carlisle last Saturday.
His most recent game was Preston's 4-1 home win against Crystal Palace in the Capital One Cup. The six players yellow carded in this game were Akpo Sodje, David Buchanan, Chris Beardsley and Paul Huntington (Preston) and both Darcy Blake and Wilfried Zaha (Crystal Palace).
Eddie Ilderton currently sits in 12th place in the RATE THE REF Table with a rating of 74 out of 100.
The assistant referees are Matthew Bristow (Manchester) and Jonathan Hunt (Liverpool). The fourth official is Football League referee Jeremy Simpson (Lancashire).
Previous Burnley Games
Season

Opponents

V

Res

Y

R

Burnley Players Carded

2004/05

Millwall

h

1-0

4

0

n

Branch, Cahill, O'Connor

2005/06

Brighton & Hove Albion

h

1-1

1

0

n

Branch

2005/06

Watford

h

4-1

2

0

n

Akinbiyi, Dyer

2005/06

Coventry City

a

0-1

5

0

n

Hyde, McCann, Ricketts, Sinclair

2006/07

Crystal Palace

h

1-1

4

0

n

Gudjonsson, J O'Connor

2007/08

West Bromwich Albion

h

2-1

2

0

n

Duff

2007/08

Coventry City

a

2-1

7

1

n

Alexander, Blake, Harley, Varga

2010/11

Sheffield United

a

3-3

4

0

n

Rodriguez, Fox

2010/11

Port Vale

h

4-2

2

0

2010/11

Millwall

h

0-3

0

0

2011/12

Nottingham Forest

h

5-1

1

0

2010/11

Bristol City

h

1-1

2

0

n

Duff