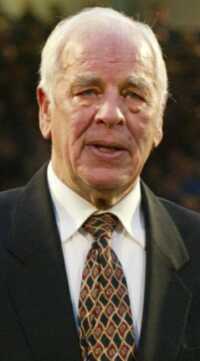 John Charles
The Italian was a quote from the great John Charles the Welsh international who spent much of his career with Juventus and Roma. It is taken from La Stampa, October 1960 and translated into English reads, "The fans are the heart of football".
The Football Supporters' Federation (FSF) was formed almost a year ago on 1st August 2002 and is a merger of the National Federation of Football Supporters' Clubs (NFFSC) and the Football Supporters' Association (FSA).
Next month (21st June) will see their first ever annual conference at Highbury and their 22 point fans' blueprint will be debated at this Fans Parliament.
The FSF has had an excellent first year as it grows with both individual membership and via supporters' groups. This web site is a member of the FSF and the Clarets Independent Supporters Association (CISA) at Burnley are active members.
So where do the fans want to see football go? Below we reproduce the 22 points that will be debated in just over four weeks time.
The Fan's Blueprint
We call for:
1. The creation of one unified governing body governing all levels of football in England to replace the current multiplicity of leagues and associations.
2. The introduction of revenue sharing between all professional clubs where one quarter of all league TV and gate revenue (including executive boxes) is pooled and divided equally.
3. Minimum standards of governance, administration and financial control for all clubs to be enforced by the governing body as a condition of membership and league entry, including a fit and proper person test for all persons owning or directing a football club.
4. An annual club licensing system to be introduced over a five year period. A condition of licensing to include a ban on unfunded revenue deficits.
5. The creation by statute of a special legal status for sporting clubs giving similar tax and financial benefits to charitable status.
6. The Government to permit safe standing areas at stadia where clubs and their supporters so wish.
7. A reduction to constant fixture changes to suit television.
8. Prior consultation with supporters on broadcasting contracts to ensure a fair deal for the matchgoing fan and an end to TV overkill.
9. An end to bans on away fans and an increase in away ticket allocations.
10. A comprehensive review of the structure of all domestic league and cup competitions and the structure of the season involving supporters at every stage.
11. Consultation with supporters on the structure of all European and international club and national team competitions and how they relate to domestic competition.
12. The development of clear rules in consultation with supporters to prevent any recurrence of the FA appeals tribunal decision to permit the former Wimbledon FC move to Milton Keynes.
13. The development of clear, legally enforceable rules to prevent clubs selling their grounds without the explicit prior agreement of their supporters and of another ground being provided in the same town.
14. Involvement of supporters in initiatives to combat racism on the field and in the stands.
15. An end to discriminatory treatment of away supporters in terms of ticket prices and allocations in both domestic and international competitions and club levels.
16. The development of a regular TV free midweek evening with no live broadcast of Premiership, Football League or Champions' League games for midweek fixtures to encourage live attendance.
17. An end to the constant above-inflation increase in ticket prices, particularly for lower priced tickets.
18. Discount ticket prices for younger and retired supporters with national standards on age criteria.
19. The development of disabled supporters' facilities at all levels of the game including minimum standards.
20. Involvement of supporters in all policing and stewarding policies affecting them.
21. Encouragement and adequate funding of supporter organisation and involvement in the game at all levels.
22. The strengthening of the role and powers of the Independent Football Commission.