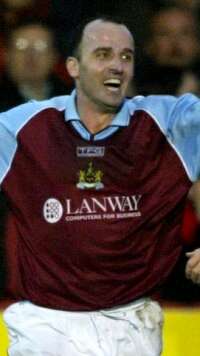 Paul Cook - another outstanding performance from the classy midfielder
I usually have my say on a match as soon as I get home, whether good or bad, but on this occasion have waited and reflected. That's not exactly the truth, I had intended waiting until I had got back to earth but that could be some time yet.
"I think Fulham will probably be a bit too strong for us," that's what I said. I said it before the first game at Loftus Road and repeated it before last night's replay. Looks as though I got that wrong. It is quite possible this set of whingers from West London were not at their best but we were, or very near to it, and to be honest once we had gone in front that was just about it.
I wasn't even born the last time this lot won at the Turf, something I had not uttered too loudly before the game. I didn't want to tempt fate but I can now say quite loudly that Fulham haven't won a game at the Turf since April 1951 and that is 26 games with 22 of them won by the Clarets.
"Can we play you every week?" now that seems to be a good idea, they are always welcome at the Turf as long as they show this sort of form.
Whilst reflecting I couldn't stop my mind wandering back to an FA Cup tie not too long ago when we were the higher placed club. In fact it is just four seasons ago, Stan's first in charge, and it took place at Middlesbrough's Riverside Stadium although it was against Darlington.
Two up and coasting, we lost Andy Payton wrongly sent off with seventeen minutes to go and then we contrived to turn the game on its head by conceding three goals in the last nine minutes.
I'm sure you all remember it but probably don't realise that it happened only four seasons ago, it really does seem light years away. Stan was on the brink that night and Chairman Barry Kilby at a meeting I attended said that he realised then that drastic action was needed.
It is worth looking back at the team from that dreadful night. We lined up: Frank Petter Kval, Chris Scott, Matty Heywood, Brian Reid, Steve Morgan, Glen Little, Mark Ford, Chris Brass, Rune Vindheim, Phil Eastwood, Andy Payton. Subs (none used): Craig Mawson, Michael Devenney, Brad Maylett, Kevin Henderson, Colin Carr-Lawton.
Looking back can be painful, and there are far too many of those painful memories stored away, but it is something we should do every now and again because it certainly makes the good days even better.
And that's what last night was – one of the good days. In fact it was one of the best days. Fulham were only the third Premiership club to play an FA Cup tie on the Turf and the first to be beaten. Incredibly it is the first time we have beaten a team from a higher division in a home FA Cup tie for twelve years. Then Winny White and John Francis both scored in a 2-0 win against Stoke.
Fulham have no ground to play on, they certainly don't appear to have many fans willing to travel and watch them play away, and their Chairman and owner seems to have far more important priorities than his club. But they are a Premiership club, they do have some very good and expensive players and they did take some beating.
Don't be fooled into thinking they were poor, you can only play as well as the opposition let you. And Burnley didn't let them play last night. It had nothing to do with over aggressive tactics (they could only be seen in French) but it had everything to do with passion and desire to win.
When Spurs came for the Worthington Cup it took a substitution to spark us off, Stan had him ready again last night just in case, but this time it probably took the first goal. Fulham were doing OK, nothing special, and having a fair share of the possession although they were hardly troubling Marlon.
But Gareth Taylor's goal changed everything, from that moment on we never let them get a foothold in the game. When Ian Moore made it two shortly afterwards the game was up for Fulham, down went their heads and even Tigana run out of toothpicks.
I have to say thought that I was disgusted with the attitude of one Burnley player whose actions I thought were disgraceful. It caused Fulham to have to substitute Luis Boa Morte and I am sure Stan will be having severe words with the offending advertising hoarding.
Tigana was meanwhile writing furiously in a notebook, later it was discovered that he was creating a list of excuses. He knew just as we all did that their cup run was at an end.
We were comfortable up to half time and in fact nearly added a third right at the end of the first half when Coxy was unlucky to have a shot on the turn blocked. The whistle blew and Toothpick appeared to be checking his excuse list with referee Phil Dowd as the players left the pitch.
Half time gave the Burnley fans the chance to say thanks to Mitchell Thomas and what a reception the ex-Claret received. The rest of the interval was spent convincing each other that we really were beating a Premiership side 2-0 and playing 'Spot the Fulham fan'.
I was somewhat concerned that some people were already making plans for Watford. I'm sorry but I have watched the Clarets for far too long to take anything for granted. An early Fulham goal in the second half and everything would change. But the first two incidents of the second half went our way and just a few minutes in it really was all over.
Firstly Fulham's Sean Davis was sent off following a challenge on Tony Grant. It was so late a Virgin train would have beaten Davis and the Fulham player went in with his studs showing. A quick confirmation with the assistant and Dowd produced the red card.
I do think there are too many cards given out by some referees, both red and yellow, but my biggest complaint is always that referees wave yellow cards around like confetti and then miss the bad foul. Dowd didn't and took the only option available to him and Davis, amazingly surprised, was on his way.
Not long afterwards we won a corner as Inamoto took the ball from Ian Moore. Tony Grant took the kick and new Turf Moor hero Driss Diallo headed home superbly.
Eleven against ten and 3-0 up, this was like being in dreamland, and apart from a poor effort from Facundo Sava this was the end for Fulham. They did nothing at all and seemed to accept their lot as the Clarets took complete control.
With around five minutes to go even I accepted that we were going through, I remember a cup tie in 1960 when a three goal lead was lost in the last few minutes so I had to wait that long, as Turf Moor rocked to 'Stan Ternent's Claret & Blue Army'.
Skipper Paul Cook was the first Burnley player to be substituted. I took some stick for describing his performance at Loftus Road as outstanding. I will not be prepared to accept any stick for repeating it this time and what an ovation he received from a crowd that have all too often turned on the classy midfielder.
Not as though Cooky was my man of the match as well as he played, in fact for most of today I had decided I wasn't even going to nominate one player so well they had all played. But I won't sit on the fence and will go for Ian Moore after another excellent performance in a new position. To be honest though you can choose anyone from the team list.
I've always loved the FA Cup, I can remember when it was the top knockout competition and I still think that cup runs can and should generate so much interest. That's why the dreadfully low attendance was a major surprise to me.
I know some can't make it and I also know that many are hit by the cost and just cannot go. Having said that I did expect more than were there last night. Those who were though certainly helped create a good atmosphere and I am sure I even saw one or two from the Travel Rug Stand joining in last night.
What a shame then at the final whistle the whole atmosphere was ruined by the unnecessary, the unwanted and the just ridiculous playing of Tom Hark. The fans wanted to applaud the players, they wanted to do their own thing and sing 'Stan Ternent's Claret & Blue Army' but the damn thing now spoils the end of games as much as it does the goals.
Now being used at Bramall Lane and at Deepdale surely it is time for us to rise above it. If Mr. Hark wants to go somewhere else then I for one will pay his bus fare.
But that's a nit pick on a wonderful Claret and Blue night and another special night in front of the television cameras. Even Mark Lawrenson had nice things to say about us and that says everything.
So remember it, recall the night whenever you are feeling a bit low. If you have recorded the match then watch it again (along with the Spurs match of course). But never forget those dark days because they always make these special nights feel even more special.
I've always been a Claret and I'll always be a Claret. Sometimes I question my sanity but then nights such as last night remind me of just why I am and will always want to be a Claret.
See you all at Vicarage Road with Stan Ternent's Claret & Blue Army.
The teams last night were,
Burnley: Marlon Beresford, Dean West, Ian Cox, Driss Diallo, Graham Branch, Paul Cook (Paul Weller 76), Ian Moore, Tony Grant (Mark McGregor 90), Lee Briscoe, Alan Moore (Glen Little 82), Gareth Taylor. Subs not used: Nik Michopoulos, Robbie Blake.
Fulham: Maik Taylor, Steve Finnan, Andy Melville, Martin Djetou, Jon Harley, Steed Malbranque (Pierre Wome 57), Sylvain Legwinski, Sean Davis, Luis Boa Morte (Facundo Sava 36), Louis Saha (Abdeslam Ouaddou). Subs not used: Martin Herrera, Andrejs Stolcers.
Referee: Phil Dowd (Stoke on Trent).