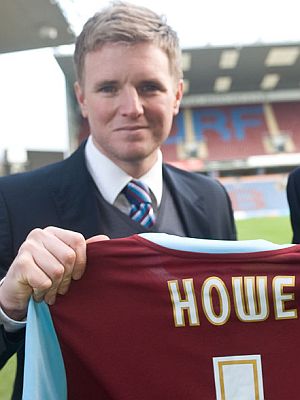 The League One club dispensed with the services of Paul Groves last week. He had replaced Lee Bradbury as manager who in turn had been appointed when Howe arrived at Turf Moor in January 2011 as replacement for Brian Laws.
Almost immediately the news coming out of Bournemouth was of them wanting Howe back but it looked the most unlikely of scenarios even given the much improved financial position they now find themselves in with the backing of Russian Maxim Demin.
The bookies quickly installed Howe as favourite, ahead of former Burnley manager Steve Cotterill who, in any case, was very quick to distance himself from the job.
When asked about it, Howe just said: "This is a Bournemouth story, it's not really one I should comment on, but I'm proud to be Burnley manager, we've just started the job and we feel there's a long way to go."
The speculation has increased all day and by lunchtime I really got the impression that it was going to happen. Nothing has changed to suggest otherwise. Tonight Sky reported that he was set for a return and that has been followed by similar suggestions from the usually reliable Bournemouth Echo.
They are suggesting that a return looks likely and that he could be accompanied by Jason Tindall (assistant manager at Burnley), Jonathan Dalzell (fitness coach), Jason Blake (academy director) and Des Taylor (chief scout).
They report: "It would almost certainly see Burnley demand a hefty compensation package, notwithstanding anything which may be outstanding from when Howe left. Also, Cherries are understood to be owed instalments form the deals that took Marvin Bartley and Danny Ings to Turf Moor which may offset any potential payment."
There has been no word from either club and there have been no suggestions as to why Howe would want to drop down a division and return to Bournemouth. It is looking increasingly likely that it will happen, but, rest assured, my sources are suggesting there is no chance of a return for a Championship manager sacked yesterday.