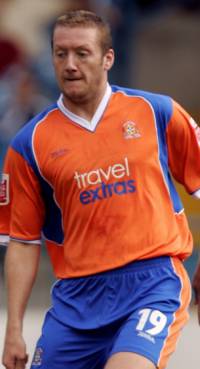 Steve Howard, the latest striker to be linked with a move to Burnley

We've had a lack of numbers for forward positions all season and with Robbie Blake now departed to Birmingham it looks an even more critical situation but if press speculation is to be believed it will certainly be a case of who to play and who to leave out.



Two experienced strikers though we can confirm will not be on their way to Turf Moor (certainly not to play in a Claret & Blue shirt). Les Ferdinand has been linked with a move from Bolton and he will be with us next Saturday, on the opposite side playing for Reading.



Kevin Campbell, surely no one believed we could afford him, is on his way out of Goodison Park and on his way to the Hawthorns to join BRWBA and that takes us to another piece of speculation involving three players.



Apparently Richard Chaplow will be leaving Turf Moor and the Clarets will receive James O'Connor, Rob Hulse and cash in return. Hulse is currently being used as a substitute and came on early for Geoff Horsfield yesterday, and there's another to be linked with us.



And then there is Andy Kirk at Boston, Bury's Dave Nugent who we were apparently watching yesterday and Adam Boyd who has been scoring goals for Hartlepool.



To add to this, we are now supposedly monitoring the situation at Luton where leading scorer Steve Howard is out of contract in the summer. He's already turned down a move to Nottingham Forest when his former manager Joe Kinnear tried to sign him which suggests he might not be too keen right now on leaving Kenilworth Road with them being top of the league.



I can confirm though that we were not in the bidding for James Beattie and it is unlikely that we will be able to match the £4 million that Aston Villa have offered Southampton for Kevin Phillips. But you never know.



It could be a good looking forward line next week though when we play Reading – Ian Moore could be facing a challenge from Hulse, Horsfield, Kirk, Nugent, Boyd and Howard for a place up front.