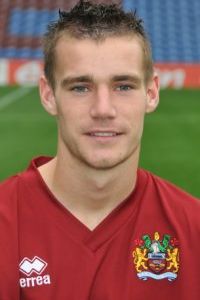 This is news that has particularly pleased me given the problems Ben has suffered in recent years with his back. It hindered his scholarship, to the point that he missed most of the 2008/09 season, and continued to hamper him during the following season and again once he'd left the Clarets.
He's fit again and has been training with Barrow. He played in our development squads' recent friendly at Holker Street and equipped himself very well.
It's non-contract terms for now, but this signing makes him available for Barrow's first team where he'll be a team mate of Alex-Ray Harvey, who signed for them last week, and both Joe Jackson and Tom Anderson, who are there on loan from the Clarets until January, and will be working under his Uncle Ash who is assistant manager.
The Blue Square Premier League season gets underway tomorrow with Barrow facing a home game against AFC Telford before travelling to Hyde on Tuesday.
Best of luck to all four of the lads, and in particular Ben who deserves some good fortune after coming through from his back injury problems.