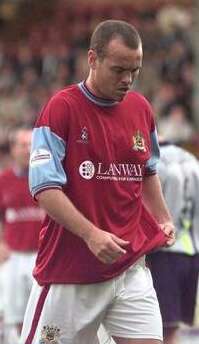 Gordon Armstrong - replaced Glen Little
It is difficult to believe sat in the Bescot Stadium that you are in one of English football's newest arenas. Although less that twelve years old it looks one of the most dated of grounds that doesn't afford the best of views with the many stanchions.
The defeat might not have been so bad had Walsall played well but to be honest they looked what they are, a side ready for the drop down to the 2nd Division. From the kick off we took the game to them and with us sat behind Marlon Beresford in the first half we hardly saw the ball in the first twenty minutes.
Yes it was Marlon in goal but for the first time since the cup defeat at Cheltenham we had two keepers in the squad as Nik the Greek returned with a seat on the bench. I hate having no keeper on the bench and the recent decision to ignore Luigi Cennamo after one nervous performance has worried me.
Back to that first twenty minutes though and as much as we dominated we hardly created anything of real note and failed to test the erratic keeper James Walker. It was clear, despite the line up that saw Gordon Armstrong play and Paul Cook and Robbie Blake take seats on the bench, that we were going for a win but there was no spark up front.
To be honest in this recent bad run, and whatever comments are made about only losing one in the last six we are without any doubt whatsoever in the middle of a bad run, we haven't really looked like scoring goals. Couple that with an inability to keep a clean sheet and not many games are going to be won.
As the first half wore on Walsall did come more into it and Marlon had to be alert on a couple of occasions and from one cross we should definitely have gone behind when Marcelo missed a good chance with a header. By half time it looked like Walsall, as bad as they were, were getting on top.
There were two changes at half time. One of the assistant referees was changed with it being rumoured that he had refused referee Alcock oral sex during the half time interval and for the Clarets Paul Cook replaced Gordon Armstrong and we started as if our lives depended on it. The first few minutes of the half were spent in the Walsall penalty box and the Clarets won a series of corners. None came to anything but when Walsall won a corner they took the lead.
Now let me say here and now that I saw nothing wrong with the goal but that had everything to do with the fact that I was sat at the other end of the ground. Apparently Marlon was fouled but referee Alcock allowed the goal.
This seems an appropriate time to mention Mr. Alcock because once again he gave us another dreadful performance that really forces me to repeat my appeal to the officials of the game to rid us of this man. He really is a joke who just minces around the pitch keeping well away from the action most of the time.
Within a minute of the goal it should have been two and at this point I thought there might be nothing for us. By the time the final whistle blew I was trying very hard to remember one single save by the Walsall goalkeeper and that was because he didn't have one to make.
Having started so well we allowed Walsall to boss the game, they were winning every second ball during that second half as too many Burnley players faded from view. Paul Weller was substituted with Brad Maylett coming on. I'm a big fan of Weller's but tonight he made little if any contribution again and it does beg the question as to how he has retained his place recently.
The last substitution brought out the boo boys again when Stan elected to bring on defender for defender, Ian Cox for Dean West, that meant Robbie Blake would spend the entire 90 minutes on the bench. I don't think it mattered what Stan had done in that second half because we had virtually surrendered to our opponents who really did give the impression that they wanted to win this game more than we did.
After the public flogging from Stan on Saturday the atmosphere in the away stand was very mixed and as the final whistle blew the booing was every bit as bad as Saturday and probably worse. However during that second half there was at least some supportive noise.
It's strange that for years we have yearned to see the Clarets take their home form into away games but right now that was the last thing we wanted. We have done so well away from home this season and before tonight I think it is fair to say that the only occasion we have played really badly on our travels was in the first half at Wolves. So I think it is fair to say that tonight's game really was the worst away performance of the season.
Before kick off many Burnley fans were saying that Saturday would be more difficult. It is this inbuilt pessimism we have that insists that any side on a good run will continue it against us and any side on a bad run will end it. The good news is that there has been a home win tonight in the Land of the Unprofessionals and surely they are not going to win two games in a week.
My Stockport contacts tell me that they are really bad at the moment and being run by a manager who just doesn't have a clue. But we still have to go there on Saturday and be totally professional and make sure we pick up three points. This is a game we have to win now to get us back on the track.
The teams tonight were,
Walsall: James Walker, Greg Shields, Ian Roper, David Holdsworth, Zigor Aranalde, Darren Wrack, Tom Bennett, Fitzroy Simpson, Frederick Biancalani, Marcelo (Don Goodman 76), Steve Corica. Subs not used: Lee Harper, Pedro Matias, Dean Keates, Darren Byfield.
Burnley: Marlon Beresford, Dean West (Ian Cox 75), Steve Davis, Arthur Gnohere, Lee Briscoe, Paul Weller (Brad Maylett 58), Kevin Ball, Gordon Armstrong (Paul Cook 45), Alan Moore, Ian Moore, Gareth Taylor. Subs not used: Nik Michopoulos, Robbie Blake.
Referee: Paul All to Cock (Halstead, Kent)