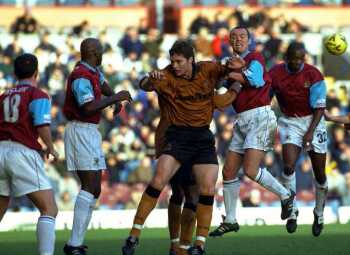 Action from our last New Year's Day fixture against Wolves in 2001
Football League clubs will be asked to vote on this at the League's AGM next month with this meaning one further midweek evening fixture for all clubs.
It appears that the clubs, having played on Boxing Day in the previous midweek, would prefer to have a clear week leading up to the FA Cup 3rd round matches which are scheduled for Saturday 3rd January 2004.
That means the first league games of the year would be played on 10th January with the last games of the previous year on Saturday 27th December.
New Year's Day wasn't a regular date for Football League matches for many years but was brought in during the 1980s as a bid to give the club's another opportunity of a big crowd.
It hasn't exactly happened as far as Burnley are concerned and the 2-1 home defeat against Wolves in 2001, played in front of a disappointing 15,483 when kick off was brought forward, is in fact the only time we have played on New Year's Day in the last nine years.
On a couple of occasions we have played on the 2nd but have seen other matches fall foul of the weather including the last two years at home to Bradford and away to Sheffield United.
Almost certainly the clubs will vote to say farewell to the New Year's day fixture and for those clubs who find themselves at home on Boxing Day (and would subsequently have been away on New Year's Day) it will be another midweek evening away match.