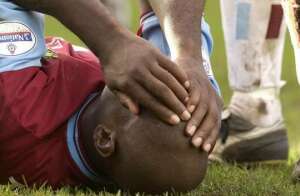 Mitchell down after a clear and blatant elbow
Stockport chairman Brendan Hell-Wood has spoken this morning and had a dig at Mitchell but was also able to speak about the Burnley fans and the way we support our team.
Hell-Wood describes the sending off of Jon Daly as an unfortunate incident and then adds, "I've watched the video, it was certainly not deliberate. They jumped up together and I don't think there was any contact and the player has made a meal of it".
It just so happened that this incident took place right in front of where I was sat on Saturday and I had a better view of this so-called unfortunate incident than either Hell-Wood or the TV camera on the gantry. I can assure him that the referee had one option and one option only and that was to send the player off. To start throwing accusations at Mitchell Thomas, along with the comments from your manager, are totally out of order.
Then, talking about his own supporters and how well they have accepted their club's poor position, he quotes one of our directors who at best can only be considered naïve for feeding him with these comments.
Hell-Wood said, "The Burnley directors said to me your fans are wonderful. We only have to have one bad game and they are screaming at us".
It is more than interesting to hear just what the Burnley directors apparently think about the fans that support the club and put money into the club. Maybe the guilty Burnley director should go and sit on the Stockport board with their wonderful fans, I'm sure he would enjoy it.