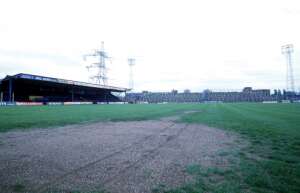 Wimbledon's old ground at Plough Lane
Prior to the home game we gave the Wimbledon Independent Supporters Association some support on
Clarets Mad
and there was an excellent article on the
London Clarets
site. Even now though their future is unclear as the move to Milton Keynes is still a possibility and is due to go to arbitration. As I said at the time this is equivalent to moving the Turf to Stoke on Trent.
Needless to say the Wimbledon fans are in dispute with the owners and chairman who they have renamed Mr. Koppout and recently held a 'Fans United Day' for a Sunday game at Selhurst Park. I am delighted to say that the Clarets were represented that day.
We have been contacted by Simon Wheeler from the Wimbledon Independent Supporters Association who has informed us that supporters are now producing their own version of the match day programmed priced at £1.50. Simon is not personally involved with this publication but needless to say is supporting it.
These lads may support a different club to ourselves but they are, like us, football fans who deserve better from their club than they are getting. If you can support them at all by buying this programme or in any other way then please do.
Not for one minute do I think Barry Kilby and our board of directors are considering a move to Stoke on Trent but the sort of goings on at Wimbledon show you just what can happen to a club that gets into the wrong hands. I believe ours to be in pretty safe hands just now so I think we can spare some time and effort for the Wimbledon lads.
Below are the details that have been sent to us by Simon

________________________________________________________________________

Yellow and Blue Matchday Programme £1.50 available around Selhurst Park.

Wimbledon supporters have been actively boycotting all Club Merchandise whilst our Chairman Charles Koppel continues to pursue our extinction through relocation to Milton Keynes. Yellow and Blue the unofficial matchday programme written by the fans for the fans was duly launched to provide ALL supporters an informative, professionally produced substitute. Yellow and Blue is also unique in that a visiting supporter writes the visitors section of the programme, avoiding articles commonly reproduced in the majority of matchday programmes. Yellow and Blue has received plaudits from a wide spectrum of supporters and journalists and is widely regarded as a superior product to the official programme.

Wimbledon Football Club have recently taken the opportunity to place adverts in visiting team programmes asking visitor supporters not to purchase Yellow and Blue.

The Official programme remains the mouth piece of Wimbledon Football Club, the Football Club that witnessed over 500 supporters representing 90 different teams at the recent "Fans against Franchising" day.

Feedback from visiting supporters, whether positive or negative is greatly appreciated by the Yellow and Blue team.

I hope you have a safe and hassle free journey to and from Selhurst Park.

Simon Wheeler
Wimbledon FC Belong in Wimbledon

NB Simon Wheeler is independent from Yellow and Blue.