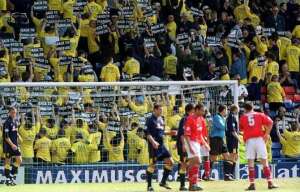 Wimbledon fans protesting whilst play continues in what could have been their last ever game at Selhurst Park
No matter what the Football Association might try to tell you about Wimbledon being a special case and as much as they might try to deny it they have in fact said yes to franchising.
The Wimbledon supporters have battled long and hard against this, and rightly so, and must be absolutely devastated at the loss of their club. Wimbledon chairman Charles Koppel is even considering moving into a temporary stadium in Milton Keynes from the beginning of next season.
Yesterday here at Clarets Mad we received an article from Simon Wheeler who is the newsletter editor of the Wimbledon Independent Supporters Association. It is because of their fight that I first met Simon last August before the Burnley v Wimbledon game at the Turf. It is because I am a football fan that I will continue to support and back them in their fight to stop this move happening and return Wimbledon Football Club back to its real home in Merton. We are not just fighting for Wimbledon, we are fighting for the future of English football.
This is what Simon had to say:
DEAD CLUB MOVING (?)
May 28th 2002, will go down as a dark day for English Football. The Football Association Commission ruled in favour of the property deal proposed by Charles Koppel, which will ultimately lead to the heartless execution of Wimbledon Football Club. 113 years of history effectively ended, by individuals seeking further personal wealth, and adding to their holdings in excess of 300 million pounds.

Milton Keynes Council in return for a genetically modified football club will grant planning permission for enabling development. Koppel's interest in Milton Keynes wasn't a footballing decision, however this was a decision that ended the hopes and dreams of Wimbledon supporters and in turn will rock the foundations of English Football, all for the sake of a hotel, cinema, bowling alley and food outlets.

Koppel has failed to produce any evidence that the people of Milton Keynes will attend matches. True Wimbledon supporters for certain will not set foot inside any ground in Milton Keynes. Peter Winkleman, the individual behind the Milton Keynes consortium boasted "At last our children can watch football", not recognising the fact that Northampton Town lies only seven miles up the road, yet struggles to fill their stadium. The jubilant cheering of Milton Keynes children, wearing Arsenal, Manchester United and Liverpool shirts fails to live up to the imagination, and no doubt would have been drowned out by Merton children crying, whilst trying to fully understand the extent of the ruling. No doubt in time, Football in the Community programmes will also be removed from their schools. More tears will follow over the years, as money grabbing Chairmen will utilise the precedent set in English Football and lead community based clubs to their re-location and ultimate death.

Merton remained a viable and feasible option. The Wimbledon Independent Supporters Association produced architect drawings of a 20,800 seater stadium on Plough Lane. An ICM poll was commissioned that reported that over 80% of Merton residents wanted Wimbledon F.C. to return, and that they would attend matches. Estimates equate to attendances of around 18,000, more than capable of sustaining a top flight football club. Charles Koppel's only real interest in Merton, was a top secret meeting with a handful of residents opposing any proposed relocation back to Plough Lane. Koppel, aided by his legal sidekick Dan Tench, stated that "The last thing you want is football supporters on your doorsteps", and quickly orchestrated a signing of a document, worded by Tench. Residents were given access to Koppel's Public Relations firm Brunswick, to issue press releases on their behalf and further insult supporters in the irony that their season ticket money was being used to stab them in the back. This is the individual that the Football Association backed, after he had been repeatedly told that franchising of football has no place in the English Game.

Wimbledon supporters will continue to fight to the bitter end. We have grounds of appeal through the Independent Football Commission, and are not scared to mount a full legal challenge to halt franchising. We have the second largest Supporters Trust in the Country, that are looking to register a new football club for OUR Community. It will be a long arduous fight, and a balance has to be developed so that resources are maximised against Koppel, We are up for the fight, and would request that the Football World unites behind us. Write to MP's, Milton Keynes Council, Wimbledon Football Club, The Football Association, The Football League, call national radio phone ins and state that you are not a Wimbledon supporter however you back the fight against Milton Keynes, and that you will not accept franchising in the English Game. After all, your football club could be next. Full contact details can be found on the
www.wisa.org.uk
website.
If Milton Keynes does go ahead, boycott matches if you Club meets Murdered Wimbledon F.C. Yes it is an emotional stance not attending your Club's away games, but will give a clear message to the football fraternity of supporter power. We do not know if matches will be played at Selhurst Park next year, Koppel is keen to make the move as soon as possible and it is a real possibility that a temporary stadium in Milton Keynes will be found. Wimbledon supporters could have watched their last ever fixture of Wimbledon Football Club born 1889, executed 2002.
It is a feeling that I wouldn't want to wish on anyone, numbness, tears, dizziness, disbelief, you name it Wimbledon supporters are feeling it.
Let's unite against franchising, Lets reverse this evil precedent.
Simon Wheeler
WISA Newsletter Editor