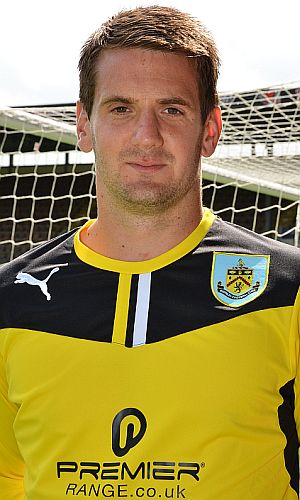 Man of the match winner Tom Heaton
In the end they couldn't be separated with Heaton narrowly taking the man of the match award and those positions reversed in the player ratings.
Just 2% of the vote came between goalkeeper and central defender in the vote. Heaton's win came courtesy of a 29.4% share with Shackell not far behind with 27.4% of the vote.
Third and fourth places were taken by the two goalscorers. Danny Ings was third with 10.1% of the vote with 9.5% giving Sam Vokes fourth place.
The top two in the player ratings were the first two players to score a rating of over eight this season.
Shackell it was who came top and his rating was 8.59 out of 10 with Heaton's rating of 8.27 giving him second place.
Vokes was again in the top four. He had a rating of 7.86 out of 10, a rating shared by Kieran Trippier, with them finishing in joint third place.
This result gives both Heaton and Shackell eight points towards the Clarets Mad Player of the Year. Vokes wins three points with both Ings and Trippier collected two points.
There are four players already into double figures on points from the first three games but Shackell is very much the early leader and is now seven points clear of second place Trippier.
The next vote will be for the Yeovil game and that will be available within an hour of the final whistle on Saturday.
The result from last Saturday's win is below along with the current player of the year table.
MAN OF THE MATCH
29.4% - Tom Heaton
27.4% - Jason Shackell
10.1% - Danny Ings
9.5% - Sam Vokes
9.1% - Kieran Trippier
4.4% - Kevin Long
2.7% - Ross Wallace
2.0% - Dean Marney
1.7% - David Jones & Junior Stanislas
1.4% - Scott Arfield
0.7% - Danny Lafferty
PLAYER RATINGS
8.59 - Jason Shackell
8.27 - Tom Heaton
7.86 - Kieran Trippier & Sam Vokes
7.50 - Kevin Long
7.45 - David Jones
7.32 - Danny Ings
7.23 - Dean Marney
7.09 - Ross Wallace
6.18 - Junior Stanislas
6.05 - Danny Lafferty
5.73 - Scott Arfield
CLARETS MAD PLAYER OF THE YEAR
20: Jason Shackell
13: Kieran Trippier
11: Tom Heaton
10: David Jones
7: Danny Ings
3: Kevin Long & Sam Vokes
2: Junior Stanislas