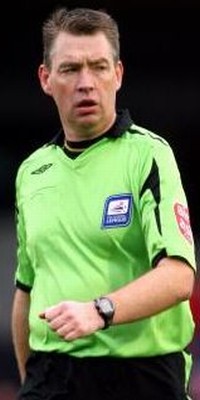 He's now in his seventh season as a Football League referee; his first game coming in September 2006 when he refereed a League Two game between Notts County and Swindon.
There were no games outside the bottom two divisions in that first season but in 2007/08 he got his first Championship game. That was Blackpool v Norwich and exactly a week later he was at Turf Moor for our 1-1 home draw against Leicester.
He had a very poor game that night but since, in six other games, there haven't been too many problems. Tomorrow will be his eighth Burnley game and all eight of them have been at home.
He's not the most mobile of referees but neither is he a referee who makes too much use of his cards, and certainly not his red card. He hasn't sent anyone off since Notts County's Graeme Lee back in April 2011.
That's a total of 57 games without a red card and there have only been 125 yellow cards in those games, not much more than two per game. This season there have been just 20 yellow cards in ten games, nine of them going to home team players and eleven to away team players.
His last game was a week last Tuesday, Millwall's 3-3 home draw against Birmingham. He yellow carded three players in that game, Shane Lowry of Millwall and Birmingham pair Hayden Mullins and former Claret Wade Elliott.
He's currently in 42nd place in the RATE THE REF Table with a rating of 60.15 out of 100.
The assistant referees tomorrow are Darren Handley and Paul Kettlewell and the fourth official is Nick Greenhalgh. All three are from Lancashire.
Previous Burnley Games
Season

Opponents

V

Res

Y

R

Burnley Players Carded

2007/08

Leicester

h

1-1

0

0

2008/09

Reading

h

1-0

0

0

2008/09

QPR

h

1-0

1

0

n

Kalvenes

2010/11

Derby

h

2-1

2

0

n

Thompson

2010/11

Middlesbrough

h

3-1

1

0

2011/12

Middlesbrough

h

0-2

5

0

n

Treacy, Wallace, Rodriguez

2011/12

West Ham United

h

2-2

4

0

n

Duff