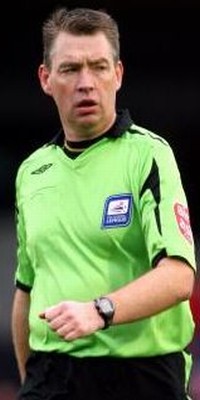 We first saw Haywood in December 2007 when he was the referee for our 1-1 home draw against Leicester City, Owen Coyle's second home game in charge of the Clarets.
In the promotion season he refereed the 1-0 wins against Reading and QPR, last season the victories over Derby County and Middlesbrough, and this season was again our referee for the home game against Middlesbrough.
In that first visit, against Leicester, he had a very poor game, but since there have been no real problems from him although he isn't the most mobile of referees.
One thing, usually, we can expect from him is not too many yellow cards as can be seen below, and the five he handed out on his last visit is hardly commonplace for him.
He joined the Football League list for the 2006/07 season and he's averaged only around two cards per game, low in today's football, although he is slightly above that average this season when he's given 88 yellow cards in 35 games. Of those cards, 45 have gone to home team players and 42 to away team players.
There are no red cards to add to that total last season. The last player he sent off was Notts County's Graeme Lee in April last year in their 3-1 League One defeat at Dagenham & Redbridge.
In almost six seasons he's only sent off 13 players and that's less than Darren Deadman in this season alone.
Mark Haywood currently stands in 35th place in the RATE THE REF Table with a rating of 61.56 outof 100.
The assistant referees are Richard Clark (Northumberland) and David McCallum (Tyne & Wear). The fourth official is Lee Metcalfe (Lancashire).
Previous Burnley Games
Season

Opponents

V

Res

Y

R

Burnley Players Carded

2007/08

Leicester

h

1-1

0

0

2008/09

Reading

h

1-0

0

0

2008/09

QPR

h

1-0

1

0

n

Kalvenes

2010/11

Derby

h

2-1

2

0

n

Thompson

2010/11

Middlesbrough

h

3-1

1

0

2011/12

Middlesbrough

h

0-2

5

0

n

Treacy, Wallace, Rodriguez