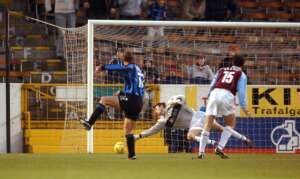 Marlon can do nothing about John Mullin's first goal
As the teams were announced the two former Clarets in the Rotherham side, John Mullin and Alan Lee, received warm applause from the Turf Moor crowd an in particular Mullin who was always a fans' favourite in his two spells at the club.
That usually ensures that the former player has a poor game, Andy Cooke and David Johnson have done that this season, it is those who get abuse who tend to play well against us. So hopefully Rotherham would be easily beaten with only nine men really playing.
Before kick off a minute's silence for Nathan Shaw was impeccably observed as the Burnley fans were given a public opportunity to pay their respects. It led to a subdued atmosphere as the game got underway.
When the clubs met just four weeks ago the game lasted just six seconds for Gareth Taylor and it was almost the same for Lee who went down in a collision with Marlon Beresford. He was fine though and able to continue and with just twelve minutes on the clock he was dancing for joy as he gave the Millers the lead when the Burnley defence gave him far too much space and time.
We had started badly for sure, defensively we were looking a long way short of secure and Rotherham were getting the better of us with John Mullin looking in outstanding form for the visitors.
But we pushed forward and took the game to Rotherham and with a bit of luck we might have found ourselves an equaliser. It was not to be and with just half an hour gone the game was virtually over as Rotherham scored twice in three minutes. Not only that, not satisfied with one ex-Claret scoring against us these next two were both put in by Mullin.
There were no elaborate celebrations though for John, he tried to push his team mates away after his first and then just walked back to the half way line after his second. His reluctance to celebrate or show any delight at scoring against the Clarets was reminiscent of a goal scored at the Turf by Andy Payton for Barnsley in 1994.
We were now looking an absolute shambles. Coxy back in the team was having a nightmare and Steve Davis alongside him was hardly much better whilst the midfield was simply being outplayed and out thought by Rotherham. In fact by now it was difficult to find one area of the pitch where we were even holding our own.
The rest of the first half was dire as we just seemed to accept the situation and we could think ourselves fortunate to be just the three goals behind when referee Foy blew the half time whistle.
As we contemplated just what Stan would do for the second half, anything was better than the laborious raffle draw going on in the centre circle, most had already resigned themselves to the fourth home defeat in the league this season.
Eventually the players emerged minus Coxy (and that was inevitable, he didn't look at all fit) and Cooky who were replaced by Alan Moore and Dimitri Papadopoulos. Needless to say that brought a shake up with the system with us going to a back three of West, Davis and Branch.
If we were going to get back into it we needed an early goal and the chance came with just a couple of minutes gone but Papadopoulos headed wide. Rotherham were soon back in control.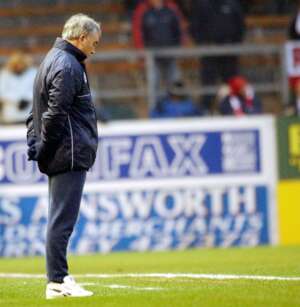 Stan looks less than happy with the goings on at Turf Moor this afternoon
Then on the hour we suddenly found ourselves down to ten men. Lee Briscoe, he had just picked up an injury, left the field although we had no sub ready and with a player less Rotherham went down and made it four with Lee now grabbing his second.
Before we could restart Tony Grant came on for the now substituted Briscoe who took a seat in the dug out with his shorts around his ankles appearing to be doing a self test for testicular cancer. That puzzle was solved later when it was revealed that Brisser had a groin injury so was presumably suffering acutely with an ice pack.
The game was all but over by now and the disappointing crowd became even less as people started to make their way home. But suddenly we got the biggest cheer of the afternoon when we pulled a goal back from Steve Davis.
Robbie Blake worked some magic down the left hand side and got the ball across but the Skip still had plenty to do to get a shot in. He did though, although he was stretching, but we were hardly back in it at 1-4.
We were getting a bit closer with 12 twelve minutes to go when Davis got his second, three players now on a hat-trick, and we began to wonder just what might happen if we could get another.
Incredibly we nearly did and it would have been much deserved for Robbie Blake when he fired in from outside the box on the right hand side only for Millers' keeper Mike Pollitt to make a superb save. Back from 0-4 to 3-4 with still over ten minutes left had it gone in, then we could have been in with a real shout.
It was not to be and there as always a chance that they could catch us on the break with us having no defenders and a linesman giving no indication whatsoever that he understood the offside rule.
Lee should certainly have completed his hat-trick and Byfield, on as a sub, should have scored although both were from offside situations. They both missed but Byfield was to get on the scoresheet with six minutes left and then again in the last minute of normal time to complete the scoring.
For the second time in just a few weeks we have conceded six goals and that perhaps sums up our season. Capable of playing and winning well and also capable of just the opposite. It was hard to believe that we had recently beaten two of the top teams at home without conceding a goal.
It's not often a game ends with four different players having scored two goals, that didn't even happen at Grimsby. The last time it happened at the Turf was over 41 years ago as Burnley and Chelsea fought out a 4-4 draw on the day Burnley fielded their reserve team. On that day the scorers were Andy Lochhead, Gordon Harris, Bobby Tambling and some young forward called Jimmy Greaves.
Another freak result then today but we cannot afford too many of them. This time though, unlike Grimsby, we certainly deserved to lose.
The teams were,
Burnley: Marlon Beresford, Dean West, Steve Davis, Ian Cox (Alan Moore 45), Graham Branch, Glen Little, Paul Weller, Paul Cook (Dimitri Papadopoulos 45), Lee Briscoe (Tony Grant 60), Robbie Blake, Gareth Taylor. Subs not used: Brad Maylett, Ian Moore.
Rotherham United: Mike Pollitt, Rob Scott, Martin McIntosh, Paul Hurst, Chris Swailes, Chris Sedgwick (Paul Warne 90), John Mullin, Nick Daws, Andy Monkhouse (Marvin Bryan 76), Richie Barker (Darren Byfield 76), Alan Lee. Subs not used: Ian Gray, Stewart Talbot.
Referee: Chris Foy (St. Helens).