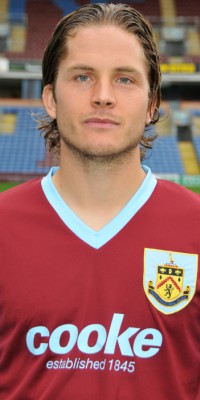 It looks a strange decision in some ways with Huddersfield's season to be extended again with the play offs, even given the reasons for him leaving, but they've obviously made the decision that Gudjonsson won't be involved.
He signed for Huddersfield in July 2010, this after having his contract at Burnley ended early after he spoke out against manager Brian Laws.
Last season he made a total of 48 appearances for the Terriers, including one of the play off semi-finals against Bournemouth at Dean Court.
However, this season he wasn't seen anything like as often. He didn't feature at all under manager Lee Clarke but was restored the first team when Simon Grayson took over. He made his first appearance just five days after the arrival of Grayson and made a total of eight appearances, two of them as a substitute, but his last appearance was five weeks ago.
Joey said on leaving: "I have thoroughly enjoyed my time at the club; the lads have been great, just like the staff and everyone connected with Huddersfield Town, they've all been great to work alongside.
"I would have liked to have played more during my two seasons, but that is football and you have to respect those decisions and the people who make them. I've certainly enjoyed my time here though."
Manager Grayson said: "When I arrived at the club Joey hadn't featured this season, but just like the entire squad he started with a clean slate under me and got his chance to play in the side.
"Joey has received an offer to go back to Iceland to play and after coming to me, I agreed that he could leave. That move back home is motivated by family reasons and that made it a fairly easy decision to agree, particularly as we have a couple of players returning from injury in his position.
"I'm sure I speak for everyone when I thank him for his contribution and wish him the best of luck for the future."