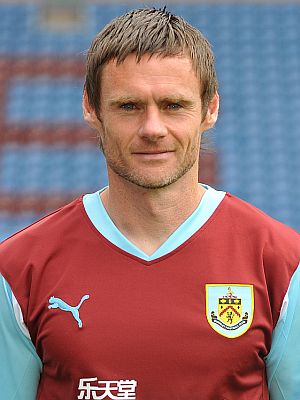 Grezza saw his contract at Burnley, which was due to run until the end of this season, terminated last July by mutual consent and, after some considerable interest, he returned to Deepdale where he'd enjoyed so much success before signing for the Clarets.
Things seemed to be going well for him. He was playing regularly as he passed his 40th birthday although he did, incredibly, miss a couple of penalties.
In September, he scored in a 2-1 home win against Tranmere Rovers and that proved to be his only goal of the season but he remained in the side until mid-December when he suffered a severe hamstring tear in the first minute of the club's home game against Stevenage, managed by Graham Westley.
Before he could return to fitness he was working alongside David Unsworth with the first team following the dismissal of manager Phil Brown and since the appointment of Westley has not been considered even after he regained full fitness.
The hint came as he collected the PFA Merit Award on Sunday and now he's told the Lancashire Evening Post that his playing days are over and that he hopes to continue at Preston in a coaching role.
Admitting that he's had preliminary talks with chairman Peter Ridsdale, he said: "The time is right to go into the coaching side. From a playing point of view, I don't think I can get to the level I expect of myself anymore.
"The standards I set myself are high, and I don't want to be a bit part player or be in the position of letting people down. I now have a burning desire to coach, and that's something I'm getting a taste for. I'm working with the lads who aren't in the squad and players who have just come back from injury."
Grezza made his 1,000th appearance when he came on for the Clarets as a substitute against Swansea last season. He made another three appearances last season and added a further twenty this season leaving him with a total of 1,023.
I'm sure, despite it being Preston, every Burnley fan will wish Grezza the very best in the next part of his career.