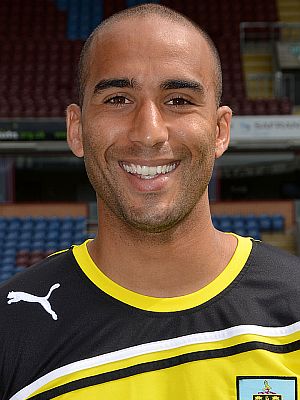 Grant's picked up both the man of the match, his fourth of the season, and doubled up by also finishing first in the player ratings.
He polled 29.1% of the man of the match vote to take first place with midfielder Dean Marney coming second with a 21.8% share. Danny Ings, making his first start for the Clarets, came third with 16.9% of the vote.
Grant was again the winner in the player ratings. He scored a rating of 7.27 out of 10 and that was comfortably ahead of Michael Duff whose rating of 6.51 was enough to give him second place just ahead of Marney who was third with a rating of 6.49 out of 10.
That result gives Lee Grant six points towards the Clarets Mad Player of the Year. There are three points for Marney, two for Duff and one for Ings.
Those points don't affect the top three but the gap is beginning to close for third place. Marney is now just four points behind Marvin Bartley and Grant a further three points behind.
Jay Rodriguez continues to hold a four point lead over Kieran Trippier with Bartley, currently out of the team, a further nine points behind.
The next man of the match vote will get underway on Sunday following the league game against Cardiff City, and will be available within an hour of the final whistle.
The result from the Crystal Palace game, along with the current player of the year table, can be found below.
Man of the Match
29.1% - Lee Grant (76 votes)
21.8% - Dean Marney (57 votes)
16.9% - Danny Ings (44 votes)
13.8% - Michael Duff (36 votes)
6.1% - Kieran Trippier (16 votes)
3.8% - Ben Mee (10 votes)
3.1% - Jay Rodriguez (8 votes)
2.7% - David Edgar (7 votes)
1.1% - Martin Paterson (3 votes)
0.8% - Ross Wallace (2 votes)
0.4% - Chris McCann & Josh McQuoid (1 vote)
Player Ratings
7.27 - Lee Grant
6.51 - Michael Duff
6.49 - Dean Marney
6.30 - David Edgar
6.22 - Danny Ings
6.19 - Jay Rodriguez & Kieran Trippier
6.16 - Ben Mee
5.73 - Chris McCann
5.05 - Josh McQuoid
5.00 - Martin Paterson
4.68 - Ross Wallace
Clarets Mad Player of the Year Table
63: Jay Rodriguez
59: Kieran Trippier
50: Marvin Bartley
46: Dean Marney
43: Lee Grant
34: Michael Duff
31: Charlie Austin
30: David Edgar
25: Ross Wallace
24: Chris McCann & Ben Mee
22: Andre Amougou
17: Keith Treacy
11: Brian Easton
5: Wade Elliott & Junior Stanislas
2: Danny Ings & Martin Paterson
1: Zavon Hines