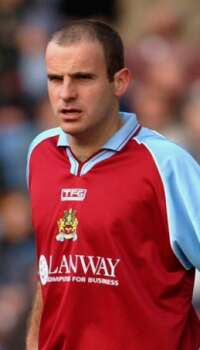 Fred West - sent off for handling the ball in the centre circle
The game was played in what could only be described as poor conditions because of fog coming off the River Medway. It made it very difficult for the Burnley fans to see the end we were attacking in the first half and in the second half conditions became even worse that left it almost impossible to see the action at the far end. Needless to say it lifted just before the end of the game.
It seems right now that we don't seem to be able to prevent sides from scoring goals, in fact from scoring pots of goals, and this is now ten conceded in the last two games. We are in a poor run of form that has seen us pick up just a point a game from the last ten and suddenly we are looking at the bottom of the league again rather than the top.
It doesn't seem to matter who we play at the back, if we are having one of those days then we will concede goals with ease. And we are having far too many of those days right now. Today it was Arthur and Mark McGregor with Coxy on the bench and Steve Davis out injured.
But by the time this game was finished it was not just another defeat, but a defeat that ended with us having just nine players on the field and a game that means we will have another three players out when we got to Grimsby for the cup game. Fred West and Gareth Taylor will be out after being sent off and Glen Little will join then after picking up his fifth yellow card of the season.
There is no doubt that the officials contributed to the events of the afternoon but this must not detract from our poor effort and at times our total lack of discipline.
The strange decisions started early when Branchy was booked for taking out Gillingham manager Andy Hessenthaler on the touchline. Somehow though the assistant couldn't see that the ball was a long way out of play at the time but this was not the only time he allowed balls to go out without bothering about it.
Worryingly referee Hegley seemed to get too much enjoyment from issuing the yellow card. He must have blown his whistle at least a dozen times to indicate the free kick (and with the ball out of play that decision was wrong) but then made a real meal out of the booking. He gave the impression that he wanted to be the star.
Two minutes later and he was at it again as he missed a clear offside that allowed Rod Wallace to go through and score the first goal of the game. As Paul Weller became the second Burnley player booked (for dissent) Branchy decided to go and have a go at the assistant.
We were a goal down and Branchy could have had no complaints whatsoever if the referee had handed him a second yellow at this stage but it was not to be the last time Branchy was fortunate to get away with dissent.
To our credit though we got ourselves back into the game with a goal from Gareth Taylor and shortly afterwards it looked as though the same player should have given us the lead but shot wide when through one-on-one with the Gills' keeper.
But we only had ourselves to blame for not taking the 1-1 scoreline into the interval with Gillingham scoring twice more in the last few minutes of the first half. And both goals were courtesy of bad defending.
Smith got through for the first of these goals as he brushed Branch, McGregor and Gnohere away with ease and had it no more difficult as he came in past two static Burnley players to grab another.
Maybe we deserved to be behind at half time but we shouldn't have been having got ourselves level and Stan clearly looked unhappy as he made his way in for the half time team talk.
His only change was Moore for Moore (Alan for Ian) and much comment of our defending in the second half is impossible with us having no chance of seeing what was going on at the far end.
But with 64 minutes gone the home crowd were able to inform us that a fourth Gillingham goal had gone in and the talk on the terracing was of another six or even worse.
Just before that goal we had made a second substitution, bringing on Dimitri Papadopoulos for the ineffective Tony Grant. The Greek striker immediately missed a good chance and he was to play a part in the next significant action as the referee finally took over as the star of the show.
He awarded us a penalty as Papadopoulos went down right in front of the Burnley crowd. There was no shout for a penalty as there seemed to be minimal, if any, contact and just about everyone seemed stunned as referee Hegley pointed to the spot.
The drama wasn't over though and we had a pathetic and unprofessional situation as two of our players were trying to snatch the ball from each other to take the penalty. As far as I am concerned Robbie Blake is our penalty taker and he picked up the ball to go and put it on the spot. That was until Papadopoulos behaved very childishly and tried to snatch it from him, presumably in Greece the player fouled must take the kick.
That wasn't all though. Blake hit the spot kick home expertly to the keeper's left only to see the referee ordering a retake because Papadopoulos had stormed into the box (this is not the time or place for childish tantrums). But to his credit Blake hit home an equally good penalty this time to the other side of the keeper.
At no point did we think we were back in the game. Unlike last week when the goals came as we put pressure on, this had come out of the blue, we really had not been threatening a goal at all.
Cox immediately replaced Gnohere but little did we know that all the fun and games were still to come.
Robbie Blake was badly fouled but the referee was at least five yards away so probably claimed he couldn't see through the fog. The ball struck Dean West on the hand but he saw that and immediately sent Fred off.
He had been booked in the first half but this looked like a straight red card. So did he handle on the line to prevent a goal? No, he handled it in the centre circle. How this could be a red card is difficult to imagine but Hegley was in no doubt and Fred had to go.
With just a minute of normal time left (another five were added) we went down to nine men. Again it came from a foul by Gillingham but this time he gave it. It was a bad foul on Taylor but he reacted.
The foul was by Barry Ashby and he was quite rightly yellow carded. But Hegley also yellow carded Gillingham's Paul Smith and then waved the red card at Taylor. Apparently it is for head butting that Taylor denies although prior to that he did appear to raise his hand at Ashby.
Smith's crime was unclear but there are suggestions that he elbowed Taylor in the melee and if so surely his punishment should have also been red.
He quite clearly by now had lost the plot and there were two more yellow cards in stoppage time with Robbie Blake getting one of them.
It really was a poor performance by the referee but it must not be allowed to cover up for the fact that this was another disappointing day for the Clarets when we looked likely to concede a goal every time Gillingham went forward.
Man of the Match for me was Robbie Blake simply because he was the only player to give us anything going forward. Apart from putting the penalty away he came close with two free kicks from outside the box.
There were some less than satisfactory performances though. David Clark wasn't at the game but had he been there would have been a choice for Star Gazer with the two Moores, Grant and Weller all suitable candidates.
The teams were,
Gillingham: Jason Brown, Nicky Southall, Barry Ashby, Chris Hope, Nyron Nosworthy, Andy Hessenthaler (David Perpetuini 38), Mark Saunders, Paul Shaw, Paul Smith, Rod Wallace (Guy Ipoua 65), Marlon King. Subs not used: Vince Bartram, Daniel Spiller, Ben White.
Burnley: Marlon Beresford, Dean West, Mark McGregor, Arthur Gnohere (Ian Cox 76), Graham Branch, Glen Little, Paul Weller, Tony Grant (Dimitri Papadopoulos 59), Ian Moore (Alan Moore 45), Robbie Blake, Gareth Taylor. Subs not used: Brad Maylett, Mark Rasmussen.
Referee: Grant Hegley (Bishops Stortford, another hotbed of football).