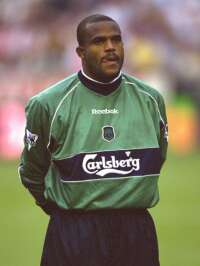 Liverpool's Pegguy Arphexad - a possible
Just about everything went wrong yesterday and, alongside that disgraceful performance, we have also had to contend with an injury to goalkeeper Nik Michopoulos. It looked as though it could be serious from the stands and that is now confirmed, Nik has a torn calf muscle. An early estimate we were given at the ground was six weeks and Stan has confirmed he will be out for some time.
That leaves us with no option whatsoever but to bring in another goalkeeper. A quick look at the current staff shows that we have Luigi Cennamo, a 21 year old goalkeeper who yesterday picked up the first 71 minutes of first team action in his career, and teenager James Salisbury who made a number of reserve team appearances last season but just the one this season.
The big question will be whether we are going to play with Cennamo in goal for the next month and a half. Should Nik be out for six weeks then that means he will miss the next eleven league games. That only leaves seven games and so any longer means he is virtually going to be out for the rest of the season.
Should Stan decide to take the risk and play these important games with an inexperienced keeper then he will have to bring in another for competition and sub duty or he may opt to go for a more experienced keeper with Lui continuing on the bench.
Stan likes experience and if we are really intent on pushing towards promotion then surely he will bring in experience in this most vital of positions but the question is who? A loan deal looks favourite here and one or two names have been thrown into the hat but it has to be realised that other clubs are not going to release their second choice goalkeeper. That would rule out someone such as Paul Robinson at Leeds or even Marlon Beresford at Middlesbrough, he is currently cover for Mark Crossley.
The Unprofessionals twice took keepers on loan earlier in the season with both coming from Premiership clubs. The first of these, and one who could be in the running, was Liverpool's Pegguy Arphexad although the 28 year old Frenchman is hardly experienced in English football with just 21 starts added to three games in the French League.
Another option could be a visit to West Ham and a chat with the Sinister One. He has more goalkeepers than he knows what to do with. The current first team keeper is David James and in this week's FA Cup tie Sven Andersson was on the bench. That leaves Craig Forrest, Shaka Hislop and Stephen Bywater. Forrest and Hislop are very experienced although the 20 year-old Bywater has hardly played first team football. He will be well known to the Burnley staff though, he was a youngster at Rochdale when Jimmy Robson was involved there and would have been at their Centre of Excellence when Mick Doc was manager.
Whoever it might be, we have this week to bring someone in before our next league game against West Brom next Sunday evening in front of the TV cameras.