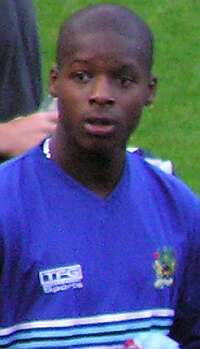 Neal Trotman - misses the game through injury
The game kicks off at 7:00 p.m. and we have named just about as strong a side as is possible and it includes five second year scholars, five first year scholars and one player plus all five substitutes from the Centre of Excellence. We are though without two injured players. Central defender Neal Trotman misses out whilst 2
nd
year scholar Adam Jones has had a nightmare since joining the Clarets with a cruciate ligament injury and is still unavailable.
It is expected to be a tough game and our Under-19 team lost 3-0 to them away from home early in the season. But Preston's side will differ more than ours with only Rhys Carpenter having to drop out from recent under-19 games whilst the visitors will be without seven from their usual league side.
Preston are holders of the competition and are confident of success although they like the Clarets will include a total of six Centre of Excellence players.
So if you can get yourself down to the Turf, you might even see the next Richard Chaplow, and give the kids your support and Yell for the Youths.
The Burnley team will be unknowns to some of you but we line up as follows:
Goal
Michael Hale (1st year from Blackpool)
Defence
Ross Preston (1st year from Chester-le-Street)
Gary Carter (2nd year from London)
Ryan Townsend - Captain (2nd year from Perth, Western Australia)
Danny Pitham (2nd year from Coventry)
Midfield
Marc Pugh (1st year from Bacup)
Joe Booth (2nd year from Blackpool)
Darrel Avery (1st year from Blackpool)
Tom Ince (1st year from Leyland)
Forwards
Alex Taylor (2nd year from Blackpool)
Cayne Hanley (CofE)
Substitutes
Mark Crossley
James Heywood
Rob Henry
Dennis Greenwood
Michael West