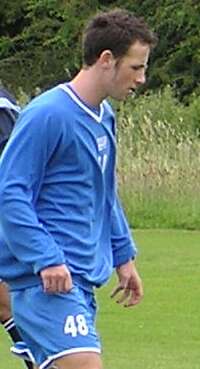 Marc Pugh - already been on the first team bench

Now comes the main competition – the FA Youth Cup – and it is this Wednesday at the Turf against Premiership Norwich City.



There was a time when these games would attract a sizeable crowd but sadly it is not the case these days and the matches sometimes get hardly any publicity, and certainly never as much as they should get.



It is a slightly different team than the one that is playing in the league – none of Adam Jones, Joe Booth or Alex Taylor will be available as this is an under-18 competition and that would have also ruled out Ryan Townsend, last season's captain, had he not been injured.



We'll also be without Kyle Lafferty who suffered a ligament injury in the recent Youth Alliance Cup win over Darlington at Gawthorpe.



But the side will include some promising youngsters including Marc Pugh who made the first team bench last season and also scored against Manchester United in Stan Ternent's testimonial.



Central defender Neal Trotman will captain the side that will be under the charges of youth coach Terry Pashley.



If the reserve team games are any indication then we can expect a crowd of less than 200, and the youngsters deserve better than that.



Of the games played so far in this round, the 3rd round, Bristol City have pulled in the smallest attendance of just 117 in a win against Rotherham.

Only one other so far has not reached 200 and that was Fulham v Birmingham with 178.


We can do better than either of these two although it might be pushing it to reach the 1,383 who saw Spurs beat

Forest

, the highest crowd so far.

It is this Wednesday and kicks off at 7 o'clock – admission to the Bob Lord Stand is just £3 adults and £1.50 Concessions – get down to the Turf and give the lads your support if you can.