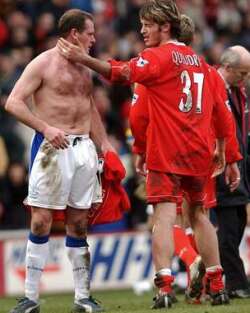 Gazza at the end of his last game for Everton
This all seems to be confirmed by an article in this morning's News of the World when Gazza admits that he had asked for a transfer before Walter Smith's sacking because he was being stabbed in the back.
He also says that he thinks he has two more years left at the top and hasn't ruled out a longer stay at Turf Moor than the initial run in to the end of this season even though there is interest from elsewhere.
Below are the two articles from today's News of the World.
Stabbed in the back
PAUL GASCOIGNE last night sensationally revealed that a mystery 'back stabber' forced him to quit Everton.
The midfielder claimed a malicious whispering campaign about his personal life and relationship with ex-wife Sheryl had driven him out of Goodison Park.
Gazza joined Burnley until the end of the season yesterday — just days after boss Walter Smith was sacked by Everton.
But Gazza denied that Smith's departure made him quit.
He said: "Someone at Everton has been stabbing me in the back. I have my suspicion about who it was and it's best if I keep it to myself. But if the Everton chairman wants to ring me up, I'll tell him the truth.
"Things were being said about me going back to see Sheryl and the kids and it hurt me. It was starting to get me down. But I can guarantee you I was not doing anything wrong.
"I had it written into my contract that if I stepped out of line, I would be kicked out of the club and that never happened."
Gazza, 34, confirmed that he is now back in regular touch with Sheryl and she had offered him vital support during the latest troublesome phase of his controversial career.
He also revealed that he asked Everton for a transfer BEFORE Smith was sacked because he had grown disillusioned with life at Goodison.
With Sheryl's support, I can carry on playing two more years
PAUL GASCOIGNE last night revealed he plans to carry on playing for another two years — with the help and support of ex-wife Sheryl.
The former England star tackles another fresh challenge this week when he bids to steer promotion-seeking Burnley into the Premiership.
He will stay at Turf Moor until the end of the season — and does not rule out signing an extended deal with the Lancashire club.
But Gazza, 34, reveals in an exclusive interview today that he is still in demand around the football world.
There are offers already on the table from TWO Premiership clubs as well as firm approaches from Dubai and the United States.
The wayward midfielder — once rated the most gifted player of his generation — will consider all options when the season is over.
But he makes it clear his rekindled relationship with Sheryl is now an important part of his life — and will be a crucial factor in his football future.
The couple were divorced in 1998 after a stormy marriage during which Gazza admitted physically assaulting her.
He said: "I have been very disappointed to hear people saying recently that my head isn't right and the cause of my problems is Sheryl. That's just rubbish.
"In fact she has been the person who has been helping me to keep my head up.
"I have been going to Hertfordshire to see Sheryl and the kids and they have been up to see me.
"We are getting on fine and we are happy with the way things are. No one is pushing us into anything we don't want to do. We are planning a holiday together in the summer.
"Sheryl has helped me a lot recently. She has helped me to keep going during a difficult spell at Everton. Rather than being a distraction, which some people have suggested, she has been just the opposite."
Gazza hopes Sheryl will be at his side at Turf Moor today to watch his new club in action against Preston.
He joined the First Division club yesterday until the end of the season but the deal was not completed in time for him to be eligible to face their Lancashire rivals.
The man who has paraded his unique skills in the English Premiership, Italy's Serie A and in top international arenas around the world is quite happy to be playing in the First Division.
And he intends to make it a brief stint out of the top flight.
Gazza said: "My main aim now is to help Burnley into the Premiership.
"I have been impressed with the energy and enthusiasm of everyone and if we can take that out on to the pitch we have a great chance of winning promotion.
"Burnley is a famous football town with great traditions and I would love to help them back into the top division. If you could give me two wishes now, it would be for Burnley to win promotion and for Everton to stay up.
"Although I was not happy at the end I wish Everton all the best. I don't want anyone to think I have deserted a sinking ship. I have made a lot of friends at Everton and still love the place.
"They gave me another chance in the Premiership and in return I gave my all for them.
"They have too many good players to be relegated. I met the new manager Dave Moyes briefly and he seems a very keen bloke. I don't see any reason why he can't turn things around."
Gazza's discontent at Goodison Park began when he found himself left out of the team by former boss Walter Smith — the man who signed him twice.
Although he was recalled for last weekend's FA Cup tie against Middlesbrough, the Geordie had already decided he wanted to leave. Gazza said: "Walter had signed three new midfield players and having done that I suppose he had to play them.
"I wasn't in the team and was struggling to get going in training. So I went to see the gaffer just over a week ago and told him I wasn't happy and wanted to move on.
"He said I would be playing in the FA Cup and we would talk about it after that.
"Unfortunately we let him and the supporters down with our performance at Boro.
"When I went to discuss a move with Walter again, it was all overtaken by events and he had been sacked.
"I felt sorry for Walter because his job wasn't easy and he didn't always get the financial backing when he needed it. He's a good man and a good friend. He was one of the first people to ring me and wish me all the best when I joined Burnley.
"But my reason for leaving Everton had nothing to do with him being sacked."
Gazza will be quite happy to discuss a longer spell at Burnley at the end of the season, but they face competition from far and wide.
He said: "I have a couple of Premiership teams interested in signing me as well as offers from Dubai and America.
"But I will wait until the summer before sitting down and considering all my options.
"If I like it at Burnley I don't see any reason why I should not stay here but all I am concerned with at the moment is helping them to get into the Premiership.
"I am feeling fit and sharp and there was nothing wrong with my form before I was left out of the Everton team.
"I won ten man of the match awards at Everton earlier in the season. I feel I can play for another couple more years yet at a high level.
"The one thing that has really pleased me is the affection I have been shown from fans around the country.
"I know I have done a few things in my career which I have regretted but I would like to think I have provided some pleasure to people as well."