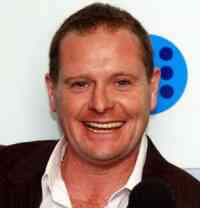 Happy to be here
The routes that the Titanic and the iceberg took have been fairly well documented but what about Gazza and us?
When he was born in May 1967 Burnley had been one of the top teams in the country for 20 years though worryingly we had just had our worst season for sometime in finishing 14th in the old Division 1.
In fact, as the young Gazza grew up so Burnley went down and by the time he made his league debut for Newcastle United as a 17 year old in April 1985 the Clarets were about to drop into Division 4.
As Paul's star raised ours sank still further. Whilst he was being widely touted as the brightest young talent in the game we had to endure the 'Orient Game'. Of course the Clarets survived and if the career of the fledgling Gazza needed any more publicity it received it aplenty thanks to this picture of him suffering the unwelcome attentions of Vinnie Jones.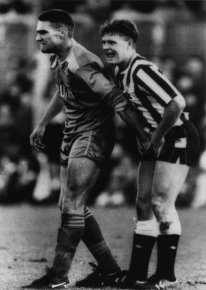 Vinnie gets to grips with Gazza
At the time Newcastle were not big enough to hold on to him and Spurs snapped him up in the summer of 1988 for £2 million. Meanwhile at Burnley we could hardly afford to pay £20,000 for a player and it was difficult to foresee a time when our paths would cross.
If you could have picked up some odds on it, the next 3 years would have been a great time to have a bet on him eventually joining Burnley as he took the football world by storm. In 1990 he earned himself a late call up to the World Cup squad by England boss Bobby Robson who labelled him 'daft as a brush'. His brilliant performances and tears earned him a worldwide recognition that seemed a million miles away from Turf Moor where the Clarets still languished in Division 4.
The following season he led Spurs to the FA Cup final at Wembley whilst we had to make do with a play off semi final defeat against Torquay and people were hardly talking about us in the same breath.
The injury he suffered in the Cup Final saw his move to Italian side Lazio delayed but he recovered just in time to seal a £5.5 million deal as the Clarets won the Division 4 Championship.
There were now signs that we were coming closer together as the Clarets rose slowly up the league whilst Gazza spent a fairly miserable 3 year period in Italy beset by injuries and hounded by the press but few people were surprised when the Clarets elected to stick with John Deary and Gascoigne went to Rangers.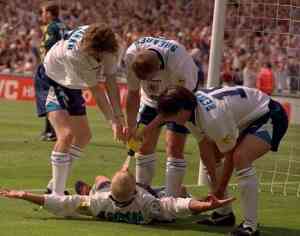 Gazza celebrates in the dentist's chair
Within the year he had helped Rangers to yet another Scottish Championship and had almost taken England to the final of Euro '96 scoring one of the finest goals of all time against the Scots in the process. Burnley had to thank Liam Robinson for scoring a wonder goal of his own away at Wrexham to ensure that the Clarets did not get dumped back into what was by now Division 3.
By 1998 there was at last a sign of a concrete link as his old friend Chris Waddle took over as the Clarets player manager. What price Gazza joining Burnley now? Actually the odds must have still been extremely high as Paul prepared to go to the World Cup in France before being sensationally left out of the squad for reasons of bad karma by England boss Glenn Hoddle. As it turned out Waddle's karma was not that special and instead of achieving the promotion that might just have brought Gazza to us he did all but get us relegated again.
So Gazza forsook us for Middlesbrough whilst Waddle departed to allow Stan Ternent to take over at Turf Moor and the Titanic closed down on the iceberg.
The first time he was linked with a move to Burnley was in the summer of 2000 after the Clarets had achieved promotion back to Division 1. Whilst it looked unlikely it didn't seem much more far fetched than having Ian Wright turning out in a Claret shirt but as it happened, despite a troubled time at Middlesbrough, there were still Premiership clubs desperate to get their hands on him and he joined former Rangers boss Walter Smith at Everton.
The following season the Clarets improved their credentials as a possible suitor with a finish of 7th and at the start of the present term Gazza was at Turf Moor though only as a non-playing member of the Everton squad in a pre season friendly.
Just when it looked like it would never happen with Walter Smith seemingly secure at Everton and talks of a move to the USA in the summer the iceberg loomed large on the port deck. Walter Smith steered a course away from it but was then relieved of his duties and we were set for a head on collision.
Even now, after having signed until the end of the season and been introduced to the crowd, it all seems a little bit unreal like it has not really happened at all.

Maybe they should make a film about it.