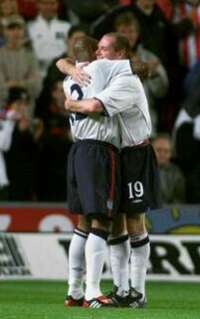 Gazza and Ian Wright celebrate a goal in last week's Matt Le Tissier testimonial game
As is always the case with high profile players Gazza has been the subject of much speculation since he last game of the season just over four weeks ago and has been linked with moves to here, there and everywhere.
The one thing that looked certain was the fact that his short substitute appearance against Coventry had been his last in a Burnley shirt. He was being courted by clubs in Dubai, America and apparently the south coast of England where Harry Redknapp viewed him as a suitable replacement for Robert Prosinecki.
Gascoigne has said that he won't make up his mind until after the World Cup, where he is doing some TV work, and at the moment is spending his time getting confused between salt and pepper on behalf of McDonalds.
Over the last few days though it has been suggested that his Turf Moor days may not be over and that the Clarets are set to offer him a week to week contract. The last word on Gazza from Turf Moor was from Stan when he said that he had probably played his last game for the club. Now it looks as though continuing at Burnley could be an option.
It will be a case of wait and see though and until then not too much salt on the fries please Gazza.