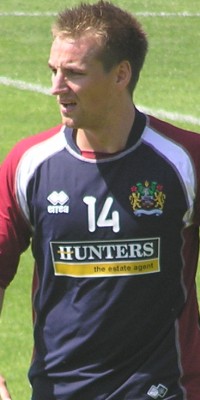 Garreth O'Connor - scored the Burnley goal

He knocked in the ball from close ranger after the PAOK had failed to deal with a Wade Elliott cross and it was the least Burnley deserved as they fought back and with any luck at all we could have gone on and won it.



It hadn't started quite so well for the Clarets and we fell behind after just thirteen minutes and shortly after that we were forced into a substitution when Michael Duff came off injured. The good news is he should be OK for Saturday.



Although the Greek side came close to doubling their lead it was the Clarets who went on to get the better of things once they had come to terms with playing at higher altitude.



Apart from Danny Karbassiyoon, neither Danny Coyne nor Micah Hyde took part.



Both Gifton Noel-Williams and James O'Connor came close to grabbing a winner but at the end the result was just as it had been in both games in Austria last year, a 1-1 draw.



We now move on to Bad Wimsbach and our last pre-season friendly against SV Wacker Burghausen and Clarets Mad will be at that game this coming Saturday.



Tonight's teams were,



Burnley: Brian Jensen, Michael Duff (Wade Elliott 20), Wayne Thomas, John McGreal, Frank Sinclair, Garreth O'Connor, James O'Connor, Vladimir But (Chris McCann 80), Graham Branch, Gifton Noel-Williams (Kyle Lafferty 83), Ade Akinbiyi.



PAOK: Fernandes, Andralas, Zografakis, Koutsopoulos, Udeze (Hristodoulopoulos 24, Eleftheriadis 63), Hasiotis, Malezas, Balafas, Feutchine, Yiasoum, Mieciel. Subs not used: Vangelis, Karipidis, Haralambous, Karalic.