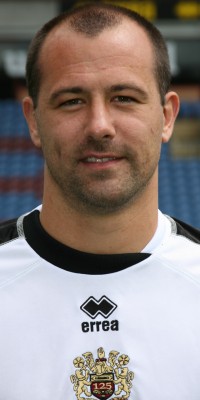 Gabor Kiraly - top man against Hull
It was hardly close either as Kiraly, who made a series of excellent saves before finally being beaten in the third minute of stoppage time at the end of the game, was well clear of any other player in both.
In the man of the match poll he claimed the three points with no less than 64.5% of the vote and that left him well ahead of central defender David Unsworth who took 12.0% of the vote. Alan Mahon, who was introduced as a substitute at half time, took 10.7% to take third place.
It was the same three players in the player ratings and again Gabor was well ahead of the field. His rating of 7.33 out of 10 was more than one ahead of second place. That was Mahon who scored an average of 6.26 whilst David Unsworth was the only other player to clear 6 with an average of 6.07.
That all means Gabor takes the six points whilst Mahon and Unsworth both score three each. Those three points for Mahon have lifted him into second place in the Clarets Mad Player of the Year table, going above Clarke Carlisle and only five points behind leader Robbie Blake.
Kiraly has jumped to fourth place and Unsworth is now fifth. The full table is below.
28: Robbie Blake
23: Alan Mahon
22: Clarke Carlisle
21: Gabor Kiraly
19: David Unsworth
18: Kyle Lafferty
15: Andy Gray
13: John Spicer
12: Steven Caldwell & Brian Jensen
11: Chris McCann
6: Wade Elliott
3: Graham Alexander & Michael Duff
2: Ade Akinbiyi & Wayne Thomas
1: Stephen Jordan