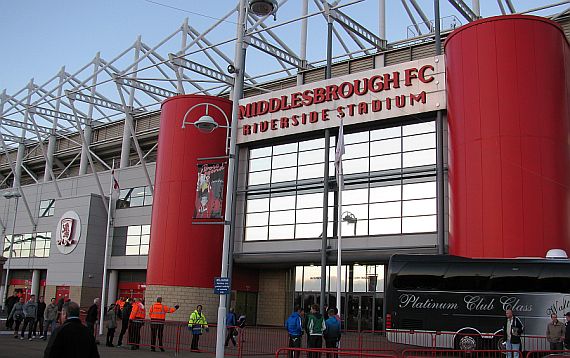 Having won on the opening day of the season at Millwall, Blackpool followed that up with a 2-1 home win against Leeds on Tuesday but they had to come from behind with Leeds holding a 1-0 lead for just about an hour of the game.
They sit right at the top with six points and behind them there are six clubs having won four points from a win and a draw. That group includes two of the newly promoted clubs, Sheffield Wednesday and Charlton.
Although the league tables don't mean too much just now, had we hung on for a draw at Middlesbrough we would now be sat in second place rather than ninth.
The Peterborough and Palace fans will think it means something. It's never good to be at the bottom and still searching for your first point. Peterborough have now lost at Leicester and at home to Millwall.
They are only kept off the bottom by Crystal Palace who have found conceding goals somewhat easy so far. They couldn't have seen this coming when they led 2-1 against Udinese Franchise last Saturday going into the 88th minute.
They conceded two late goals and followed that up by conceding two goals in the first twelve minutes at Bristol City on Tuesday, eventually losing the game 4-1.
In a start to the season that hasn't been blessed with big scores, Bristol City became the first team to hit four goals with Middlesbrough, Sheffield Wednesday and Wolves all getting three.
It will be some weeks yet before the table is really meaningful but we move on to the weekend with all the midweek teams who played at home getting a second home fixture.
I enjoyed, despite their win, listening to Owen Coyle's interview. The poor man is losing money this season due to their relegation. He told reporters that his side's target was promotion to the Premier League. No mention of any banks, but there again he doesn't get paid each time he says it now as he's no longer a BARCLAYS Premier League manager.
The midweek results, which ended with the game at Blackburn last night where there was little to report other than the meagre attendance for a club just relegated from the Premier League, are shown below along with the stats from those games.
There is also the list of leading goalscorers, currently any player who has scored at least two league goals, each club's disciplinary record, the highest and lowest attendances and this weekend's fixtures.
The Results
Tuesday 21st August

Blackpool 2 Leeds United 1

Middlesbrough 3 Burnley 2

Bolton Wanderers 2 Derby County 0

Peterborough United 1 Millwall 2

Brighton & Hove Albion 0 Cardiff City 0

Sheffield Wednesday 3 Birmingham City 2

Bristol City 4 Crystal Palace 1

Watford 0 Ipswich Town 1

Charlton Athletic 2 Leicester City 1

Wolverhampton Wanderers 3 Barnsley 1

Huddersfield Town 1 Nottingham Forest 1

Wednesday 22nd August

Blackburn Rovers 1 Hull City 0
The Stats

Biggest Win

Bristol City 4-1 v Crystal Palace (home)

Total Goals Scored

34 (22 home - 12 away)

Player Scoring Most Goals

2 - Jermaine Johnson (Sheffield Wednesday)

Highest Attendance

25,518 - Brighton & Hove Albion v Cardiff City

Lowest Attendance

6,188 - Peterborough United v Millwall

Total Yellow Cards

26

Total Red Cards

0

Most Cards in a Game

Bolton Wanderers v Derby County (4Y) Ref: Craig Pawson
Bristol City v Crystal Palace (4Y) Ref: Michael Naylor
Huddersfield Town v Nottingham Forest (4Y) Ref: Neil Swarbrick
Leading Goalscorers (League Only)

3

Jermaine Johnson (Sheffield Wednesday)

2

Charlie Austin (Burnley)
Owen Garvan (Crystal Palace) - includes 1 penalty
Thomas Ince (Blackpool)
Colin Kazim-Richards (Blackburn Rovers)
Andy King (Leicester City)
Nikola Zigic (Birmingham City)
Disciplinary Record (League and Cup)

Club

Y

R

Y

R

Club

Y

R

Y

R

League

Total

League

Total

Barnsley

4

0

6

1

Huddersfield Town

4

0

5

0

Birmingham City

1

0

1

0

Hull City

2

0

2

0

Blackburn Rovers

3

0

3

0

Ipswich Town

1

0

1

0

Blackpool

2

0

2

0

Leeds United

6

0

7

0

Bolton Wanderers

5

0

5

0

Leicester City

3

0

3

0

Brighton & Hove Albion

1

0

2

0

Middlesbrough

3

0

3

0

Bristol City

3

0

5

0

Millwall

3

0

5

0

Burnley

2

0

4

0

Nottingham Forest

4

0

4

0

Cardiff City

2

0

4

0

Peterborough United

3

0

4

0

Charlton Athletic

1

0

1

0

Sheffield Wednesday

3

0

4

0

Crystal Palace

2

0

4

0

Watford

3

0

4

0

Derby County

2

0

3

0

Wolverhampton Wanderers

2

0

4

0
Highest and Lowest Attendances

Highest

Lowest

Att

Fixture

Att

Fixture

27,437

Derby County v Sheffield Wednesday (18/08)

6,188

Peterborough United v Millwall (21/08)

25,518

Brighton & Hove Albion v Cardiff City (21/08)

11,010

Millwall v Blackpool (18/08)

25,379

Sheffield Wednesday v Birmingham City (21/08)

12,203

Barnsley v Middlesbrough (18/08)

24,400

Wolverhampton Wanderers v Barnsley (21/08)

12,221

Bristol City v Crystal Palace (21/08)

23,863

Leicester City v Peterborough United (18/08)

12,422

Watford v Ipswich Town (21/08)

23,745

Leeds United v Wolverhampton Wanderers (18/08)

13,562

Blackburn Rovers v Hull City (22/08)

21,575

Nottingham Forest v Bristol City (18/08)

14,315

Blackpool v Leeds United (21/08)

21,127

Cardiff City v Huddersfield Town (17/08)

15,434

Huddersfield Town v Nottingham Forest (21/08)

19,117

Ipswich Town v Blackburn Rovers (18/08)

15,559

Middlesbrough v Burnley (21/08)

18,407

Burnley v Bolton Wanderers (18/08)

15,794

Hull City v Brighton & Hove Albion (18/08)
The Week's Fixtures
Friday 24th August

Bolton Wanderers v Nottingham Forest

Saturday 25yh August

Blackburn Rovers v Leicester City

Middlesbrough v Crystal Palace

Blackpool v Ipswich Town

Peterborough United v Leeds United

Brighton & Hove Albion v Barnsley

Sheffield Wednesday v Millwall

Bristol City v Cardiff City (13:00)

Watford v Birmingham City (17:20)

Charlton Athletic v Hull City

Wolverhampton Wanderers v Derby County

Huddersfield Town v Burnley