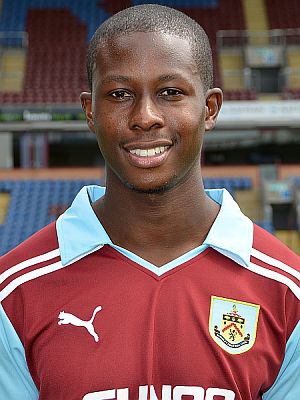 Man of the Match vote winner Marvin Bartley
It was mixed in terms of the order they came and it was Marvin Bartley who came first in the man of the match vote. Bartley was at fault for West Ham's second goal but otherwise turned in a good performance in the midfield which was capped by his own goal which opened the scoring midway through the first half.
Bartley secured 37.5% of the vote and that was well ahead of goalkeeper Lee Grant who took second place with a 20.8% share of the vote. Captain Chris McCann, looking a much better player when given the opportunity to get forward more, was third with 9.9% of the vote.
Two of those players were in the top three in the ratings with Ben Mee, who was fourth in the vote, replacing Bartley.
It was Grant who took first place with a rating of 7.31 out of 10 and that was just ahead of McCann whose rating was 7.28. Mee, back at left back after two games out of the side, just got ahead of Bartley for third place with a rating of 7.14 out of 10.
That result means Grant wins five points towards the Clarets Mad Player of the Year. Both Bartley and McCann get three points and there is one point for Mee.
Those points have really tightened things up at the top with Grant now just three points behind second place Kieran Trippier and Bartley just a further three points behind. What had looked a two horse race between Jay Rodriguez and Trippier is no longer the case.
The next man of the match vote will be for the Portsmouth game and that will start within an hour of the final whistle on Saturday.
The results from the West Ham game and the current player of the year table are shown below.
Man of the Match
37.5% - Marvin Bartley (110 votes)
20.8% - Lee Grant (61 votes)
9.9% - Chris McCann (29 votes)
7.5% - Ben Mee (22 votes)
6.5% - Dean Marney (19 votes)
5.5% - Martin Paterson (16 votes)
4.8% - Kieran Trippier (14 votes)
4.1% - Michael Duff (12 votes)
2.0% - David Edgar (6 votes)
1.0% - Danny Ings (3 votes)
0.3% - Ross Wallace (1 vote)
Player Ratings
7.31 - Lee Grant
7.28 - Chris McCann
7.14 - Ben Mee
7.07 - Marvin Bartley
6.97 - Martin Paterson
6.72 - Kieran Trippier
6.48 - Dean Marney
5.76 - David Edgar & Danny Ings
5.72 - Ross Wallace
5.14 - Michael Duff
Clarets Mad Player of the Year Table
63: Jay Rodriguez
59: Kieran Trippier
56: Lee Grant
53: Marvin Bartley
50: Dean Marney
43: Michael Duff
31: Charlie Austin & David Edgar
30: Chris McCann
27: Ross Wallace
25: Ben Mee
22: Andre Amougou
17: Keith Treacy
11: Brian Easton
5: Wade Elliott & Junior Stanislas
3: Danny Lafferty
2: Danny Ings & Martin Paterson
1: Zavon Hines