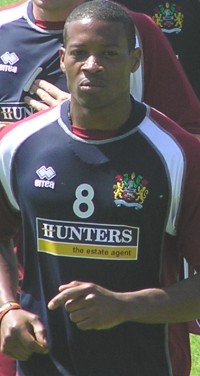 Micah Hyde - one of four players transfer listed by the Clarets today

Micah has been with the club for two years and was one of Steve Cotterill's summer 2004 signings. No player has started more games for the Clarets in the last two seasons although he's missed a few games recently, firstly with an injury and then having to settle for a place on the bench.



He's had some outstanding games for us, since we snatched him from Sheffield United, but I'm sure most Burnley fans will always want to recall his goal at Ewood Park in the FA Cup last season.



The other three to go on the list were all signed during last summer's transfer window and none of them have made any real impact at Burnley. Danny Karbassiyoon has failed to make a first team start whilst Duane Courtney managed one, at right back in the memorable game at Luton last November.



Seeing those two being made available comes as no surprise and neither does it with the news that Gifton Noel-Williams is also on the list. For whatever reason, Gifton's season has been somewhat disastrous and he didn't score a goal for us after August and spent a lot of the time on the bench.



He moved to Brighton on loan on the March deadline day, but a week earlier Brighton boss Mark McGhee had said we wanted them to take his contract, so it was clear then that he was no longer part of the first team at Burnley.



All four, Hyde, Karbassiyoon, Courtney and Noel-Williams have one year remaining on their contracts and will still be at Burnley unless they find new clubs. Obviously they will all be looking for just that to continue their careers.