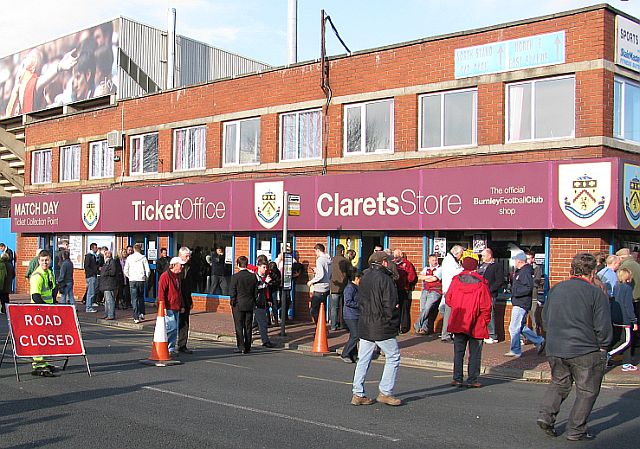 That left three former Clarets celebrating with all of Danny Fox, Jack Cork and Richard Chaplow currently at Southampton, although only Fox was selected for this game.
There's been a big change at St. Mary's in the last three years. Their last home game of the 2008/09 season against Burnley had them out with collecting buckets as they desperately tried to raise money to keep going having gone into administration.
With creditors losing out they got themselves some investment and that's led to successive promotions in 2011 and 2012 and a return to the Premier League that they left in 2005. It's so wrong, but clubs continue to get away with this and the sooner the punishment for administration is more realistic than the deduction of a few points then the sooner clubs will be prevented from rebuilding like this when people have lost out on money owed to them.
It seems to be normal day to day business in that part of the world with Portsmouth and Bournemouth two other clubs that have been in and out of administration more often than we change our kit.
Still, with Pompey and Southampton gone that's two long away trips out of the way and for that reason I wouldn't mind West Ham winning the play offs. They face Cardiff on one semi-final with Birmingham and Blackpool meeting in the other.
My choice? Call it sentiment but I'd like to see Steven Caldwell and Wade Elliott get another crack at the Premier League next season with Birmingham. Caldwell is out of the play offs with an injury but Elliott, who scored from the penalty spot on Saturday, might yet get another Wembley appearance.
Cardiff, with another ex-Claret in Pete Whittingham, took their place in the end of season lottery with a win at Crystal Palace. In the end it wasn't needed as Middlesbrough lost at Watford.
Whittingham scored in Cardiff's win and Chris Iwelumo scored his first Vicarage Road goal since netting our third there last season. Along with Elliott they were amazingly three of nine players with Burnley connections who scored in the leagues on Saturday.
I know most of them were outside the Championship but it is worth noting that also on the scoresheet were Nathan Dyer (Swansea), Steven Fletcher (Wolves), Keith Treacy (Sheffield Wednesday), Dean Bowditch (MK Franchise), Dele Adebola (Notts County) and Graham Alexander (Preston) who scored in what will be his last ever appearance. Well done Grezza.
That's it, we've finished 13th in a table that has Reading as champions and Southampton runners up with Coventry, Portsmouth and Doncaster relegated.
Southampton have scored the most goals with 89 and Coventry have the least with 41. The best defensive record is that of Reading who have conceded just 41 goals. The worst is Doncaster who have had something of a throw one in season with 80 goals conceded.
Southampton also head the home points table. They've won 52 points at St. Mary's whilst Doncaster are bottom with only 20 home points. Burnley's return of 30 points sees them in 18th place.
The away table has West Ham as winners with 45 points and Coventry at the bottom with only nine points. We've done much better here and have just sneaked into the play off positions with 32 away points.
What about clean sheets? These were the things we couldn't quite muster until December but in the end we totalled 12. I don't think anyone will be surprised to see Reading at the top of that particular table with 20 clean sheets, or probably that Peterborough are bottom with only four and that's four less than Barnsley and Doncaster, who were just ahead of them, managed in the season.
West Ham boast the highest average attendance with 30,923 going through the Boleyn Ground turnstiles. Peterborough are at the other end with an average attendance of just 9,123 at London Road.
We provided Blackpool with their highest attendance of the season but both Birmingham and Leicester had their lowest attendances against us.
We can all sit and watch now to see which other clubs will be leaving us and which will be coming in from the Premier League and League One to join Wolves and Charlton who have already been confirmed. And which ground will we be visiting in the Steel City next season?
And finally, I can't forget the referees without whom we'd have no games. A total of 70 referees have refereed in this season's Championship. Darren Deadman, with 18, has refereed the most.
The Results
Saturday 21st April

Barnsley 0 Brighton & Hove Albion 0

Leeds United 1 Leicester City 2

Birmingham City 2 Reading 0

Millwall 2 Blackpool 2

Burnley 1 Bristol City 1

Nottingham Forest 2 Portsmouth 0

Crystal Palace 1 Cardiff City 2

Southampton 4 Coventry City 0

Derby County 1 Peterborough United 1

Watford 2 Middlesbrough 1

Doncaster Rovers 2 Ipswich Town 3

West Ham United 2 Hull City 1
The Stats

Biggest Win

Southampton 4-0 v Coventry City (home)

Total Goals Scored

33 (20 home - 13 away)

Player Scoring Most Goals

2

Dexter Blackstock (Nottingham Forest)
Carlton Cole (West Ham United)

Highest Attendance

35,000 - West Ham United v Hull City

Lowest Attendance

9,764 - Doncaster Rovers v Ipswich Town

Total Yellow Cards

27

Total Red Cards

0

Most Cards in a Game

Barnsley v Brighton & Hove Albion (4Y) Ref: Colin Webster
Crystal Palace v Cardiff City (4Y) Ref: Lee Mason
Leading Goalscorers (League Only)

27

Rickie Lambert (Southampton) - includes 9 penalties

20

Ricardo Vaz Te (West Ham United) - includes 1 penalty - (10 with Barnsley)

19

Billy Sharp (Southampton) - includes 1 penalty - (10 with Doncaster Rovers)

18

Ross McCormack (Leeds United)

17

Matty Fryatt (Hull City) - includes 2 penalties

16

Charlie Austin (Burnley) - includes 1 penalty
Marlon King (Birmingham City) - includes 2 penalties

15

Darius Henderson (Millwall) - includes 2 penalties
David Nugent (Leicester City)
Kevin Phillips (Blackpool)
Jay Rodriguez (Burnley) - includes 3 penalties

14

Michael Chopra (Ipswich Town)
Carlton Cole (West Ham United)
Marvin Emnes (Middlesbrough)

13

Robert Snodgrass (Leeds United) - includes 2 penalties

12

Chris Burke (Birmingham City)
Adam Le Fondre (Reading)
Kevin Nolan (West Ham United)
Paul Taylor (Peterborough United)
Chris Wood (Bristol City) - includes 1 penalty - (9 with Birmingham City)
Peter Whittingham (Cardiff City) - includes 3 penalties
Hat Tricks
Date

Player & Game

20/08/11

3: Lee Tomlin - PETERBOROUGH UNITED v Ipswich Town

10/09/11

3: Rickie Lambert - SOUTHAMPTON v Nottingham Forest

11/09/11

3: Chris Wood - BIRMINGHAM CITY v Millwall

12/10/11

3: Darius Henderson - Leicester City v MILLWALL

02/11/11

3: Jonjo Shelvey - Leeds United v BLACKPOOL

19/11/11

3: Rickie Lambert - SOUTHAMPTON v Brighton & Hove Albion

26/12/11

3: Matthew Phillips - Barnsley v BLACKPOOL

31/12/11

3: Ricardo Vaz Te - BARNSLEY v Leeds United

21/01/12

3: Darius Henderson - Barnsley v MILLWALL

31/01/12

4: Nikola Zigic - Leeds United v BIRMINGHAM CITY

26/02/12

3: Rickie Lambert - Watford v SOUTHAMPTON

17/03/12

3: Rickie Lambert - Millwall v SOUTHAMPTON

20/03/12

4: Garath McCleary - Leeds United v NOTTINGHAM FOREST

31/03/12

3: Radi Majewski - Crystal Palace v NOTTINGHAM FOREST

31/03/12

3: Charlie Austin - Portsmouth v BURNLEY

14/04/12

3: Ricardo Vaz Te - WEST HAM UNITED v Brighton & Hove Albion

17/04/12

3: Matty Fryatt - HULL CITY v Barnsley
Disciplinary Record (League and Cup)

Club

Y

R

Y

R

Club

Y

R

Y

R

League

Total

League

Total

Barnsley

62

2

65

2

Ipswich Town

56

5

57

5

Birmingham City

64

3

69

3

Leeds United

75

9

81

9

Blackpool

54

2

57

3

Leicester City

61

9

69

9

Brighton and Hove Albion

94

8

108

8

Middlesbrough

77

7

80

7

Bristol City

81

7

83

7

Millwall

79

2

86

2

Burnley

70

2

78

2

Nottingham Forest

61

5

66

5

Cardiff City

59

0

75

0

Peterborough United

54

2

57

2

Coventry City

55

3

57

3

Portsmouth

77

4

84

4

Crystal Palace

57

2

61

3

Reading

58

1

61

1

Derby County

58

1

58

1

Southampton

52

4

55

4

Doncaster Rovers

70

3

72

3

Watford

69

3

71

3

Hull City

70

1

75

1

West Ham United

67

6

69

7
Highest and Lowest Attendances

Highest

Lowest

Att

Fixture

Att

Fixture

35,000

West Ham United v Hull City (28/04)

6,351

Peterborough United v Cardiff City (18/10)

34,936

West Ham United v Coventry City (02/01)

6,392

Peterborough United v Millwall (06/03)

34,900

West Ham United v Crystal Palace (25/02)

6,717

Peterborough United v Reading (20/03)

34,749

West Ham United v Barnsley (17/12)

7,004

Peterborough United v Bristol City (18/02)

34,650

West Ham United v Doncaster Rovers (10/03)

7,540

Peterborough United v Blackpool (10/03)

33,465

West Ham United v Portsmouth (10/09)

7,555

Peterborough United v Portsmouth (28/01)

33,366

Leeds United v West Ham United (17/03)

7,572

Doncaster Rovers v Millwall (20/03)

33,350

West Ham United v Reading (31/03)

7,650

Doncaster Rovers v Watford (26/11)

33,010

Derby County v Southampton (15/10)

7,778

Doncaster Rovers v Bristol City (27/08)

33,010

Derby County v Leeds United (26/12)

7,901

Peterborough United v Burnley (17/09)
The Final Fixtures
Saturday 21st April

Barnsley v Brighton & Hove Albion

Leeds United v Leicester City

Birmingham City v Reading

Millwall v Blackpool

Burnley v Bristol City

Nottingham Forest v Portsmouth

Crystal Palace v Cardiff City

Southampton v Coventry City

Derby County v Middlesbrough

Watford v Peterborough United

Doncaster Rovers v Ipswich Town

West Ham United v Hull City