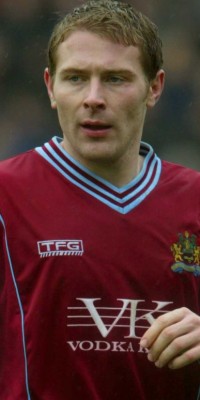 Our Ian - signed for his dad
Both Moore and Taylor signed for Burnley during the 2000/01 season. Moore cost the club a record breaking £1 million from Stockport County, the transfer that won them the title of the Unprofessionals on this website. A few weeks later Taylor arrived from Manchester City on loan for the rest of the season with a Bosman deal being tied up in the summer of 2001.
They started 74 league games together for the Clarets and on another 20 occasions partnered each other when one of them started and the other came on as a sub. Taylor was certainly the more prolific in front of goal but only six times did they both score in the same game.
Taylor was the first to leave, signing for Nottingham Forest early in the 2003/04 season and he's since played for Crewe and Tranmere who he joined in 2006, a summer recruit for Moore's dad Ronnie.
Today he left to sign for Doncaster Rovers and as he went through the exit his former partner Moore walked in to the club where he started his career on a free transfer from Hartlepool. He'd been made available last week because he was finding it difficult commuting from his home in Warrington to the North East.
It must be a dream come true for Ronnie. He's always wanted to sign 'Our Ian' and was forever telling us just how good he was and how we would love to sign him at the time when he was managing Rotherham. Today dad and son are finally united.
Both Taylor and Moore are set to play for their new clubs this weekend.