Sean Dyche alongside author Dave Thomas
It's over 37 years since Jimmy Adamson managed Burnley but another former manager and the current manager were both there to launch the new book about Adamson written by Dave Thomas.
Dave had asked me to go down to the club shop for the launch. I think it might have been for the wine tasting to be honest, I found the red better than the white, but there were a decent number of supporters there chatting to Adamson's former team mate Jimmy Robson, and some of the players he managed as well as current boss Sean Dyche.
Dyche noted in the book that Adamson was always being forced to sell his best players and that forty years ago oversaw the sale of Dave Thomas to divisional rivals QPR.
The members of his team of the seventies were Mick Docherty, Jim Thomson, Frank Casper and Ian Brennan with Paul Fletcher arriving after the photograph below had been taken.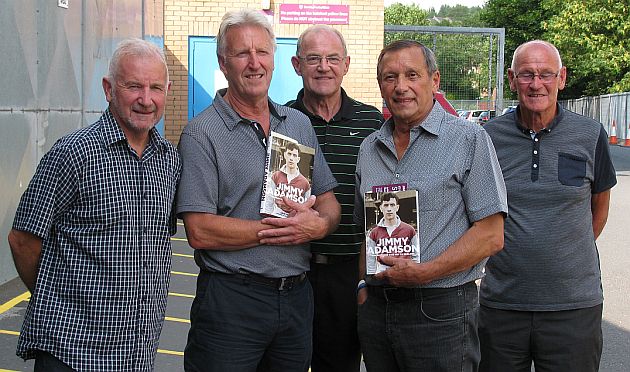 Mick Docherty, Ian Brennan, Jim Thomson, Frank Casper and Jimmy Robson
All speak highly of Adamson with Doc telling me that he was a manager who always kept his players at a distance but had the respect of all of them.
They all stayed until Fletcher's ukulele appeared at which point they all rushed for the exit door with Doc dragging me and one or two more out with them.
The formal launch will be held in the 1882 Lounge in two weeks time. I believe all the tickets have now gone, but the book is now available in the club shop.