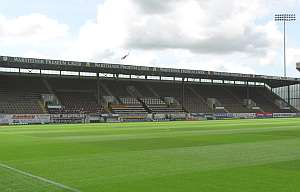 The pitch wasn't quite this good

It was probably not a shock having had another day of heavy rain but the news from the club all day had been that the pitch was fit – so what was the problem?



At around 7:15 p.m. some thirty minutes after the postponement came I was able to get out and have a look at the pitch and to be honest I was stunned because it was in a far better state than I expected it to be in.



Yes, it was heavily sanded in places, particularly some patches in front of the Bob Lord Stand and had the game gone ahead alternative arrangements would have had to have been made for the coaching staff and substitutes of both teams with the two dug out areas in a very poor state.



I'm no referee and I did not get the opportunity to examine the pitch in the way that Clattenburg would have done but from what I can see there looked to be very little reason why the game could not have gone ahead.



There is no doubt that one hell of a lot of work has been done in the last seven days and unlike last Saturday when the game went ahead, there was no surface water tonight. It might not have been a brilliant surface but for me it could certainly have been played and it is somewhat unfair to blame the club tonight.



Amongst those who were there tonight were a number of ex-Clarets with a couple of real surprises. Ian Brennan was all ready to make the half time draw and he was set to be joined by Paul Cook on the pitch.



A former Norwegian international and Burnley fan Gabriel Hoyland had flown over from his homeland and brought with him the only Norwegian to play league football for Burnley, Rune Vindheim.



I had the opportunity to speak to Rune and he told me that he is now retired from football. It was good to see that he had been to the club shop and treated himself to this year's home shirt.



The biggest surprise of all though was the news that former captain and manager Jimmy Adamson was inside the ground having been brought by two of his former players Paul Fletcher and Colin Waldron.



Jimmy, now 75, has not been seen at Turf Moor for a long time and it is thought his last visit to the ground was back in the 1970s when he came as manager of Sunderland.



Hopefully these ex-Clarets will be back soon, maybe in ten days time when the match is expected to be played.