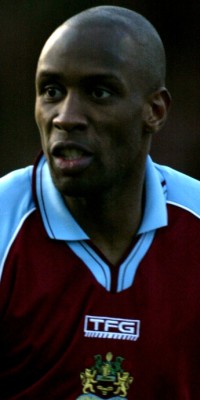 Drissa Diallo - has hung up his boots
Drissa Diallo was with the Clarets in the second half of the 2002/03 season having arrived on a free transfer following the collapse of his Belgian club Mechelen. He turned down the offer of a contract that summer and moved to Ipswich before going on to play for Sheffield Wednesday and Milton Keynes Franchise.
He joined Cheltenham, initially on loan, a year ago, and has been a regular in their side since, playing his last game for them just last month at Torquay. This week he's decided, at the age of 37, he's decided it is time to hang up his boots and head home to France.
Diallo said: "I've been thinking about what I'm going to do after football for a few years and now maybe the time is right to do something else. I am going back to France next month and I will be very busy with starting a new business and renovating my house, so will not have much time for football.
"I would like to stay involved in football and maybe I will play part time next season in France."
Drissa's fellow countryman Mo Camara is also on the move but in his case it is not of his own choosing. Having opted to leave Burnley in 2005 he moved to Celtic and then Derby. He had loan spells with both Norwich and Blackpool and last February, whilst out of contract, he signed for St. Mirren.
It was to the end of last season but in the summer that was extended by a full year. However, having played in their first game of the season, in the CIS Cup against East Stirlingshire, he's been on the sidelines through injury, illness and not being selected.
It was his last game for the club, and he played just thirteen times in total for them. Yesterday he agreed to terminate his contract with them and is now on the look out for a new club.