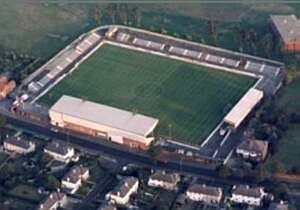 Haig Avenue - home of Southport FC
Walsh joined the Clarets from Everton and made his debut in the local derby against Blackburn on the Turf on Boxing Day 1982 but his stay was cut short when he refused to play in a cup tie. He was under some mishaprenension that he could collect his cup ties bonuses whilst not playing in the two main knock out competitions.
He is certainly well known to the current management team at Turf Moor. Walsh was number two to Sam Ellis at Bury and stepped up to the manager's job when Sam left to go with Peter Reid to Manchester City.
He then took Stan Ternent as his number two before Stan himself replaced Walsh when he moved on.
More recently he was sacked along with another ex-Claret Adrian Heath on the same day as Sunderland had their big clear out. The two of them went along with Peter Reid, Bobby Saxton and Tony Book. He had been working at Sunderland as European scout obviously responsible for such top signings as Stanislav Varga and Lillian Laslandes to name but two.
He takes over the Sandgrounders with them in 9th place in the Conference although they are eleven points adrift of the play off places.