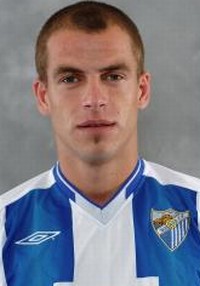 Duda

The Spanish side are training in England and this is one of four matches they play whilst for the Clarets it is the only home pre-season game and on Sunday we head for Austria and a week in a training camp with two further fixtures.



Malaga have been busy in the transfer market today and have signed Uruguayan Richard Morales from Osasuna but he will not be in the team against the Clarets, he will fly over to join his new team mates on Monday.



The most familiar name to Burnley fans will be that of former Ipswich striker Pablo Counago, he was released by the Suffolk club at the end of last season and has joined Malaga as a replacement for Paolo Wanchope who has recently left the club.



The top rated player at the club is Portuguese midfielder Duda is rated in the £5 million bracket and is expected to play tomorrow as is Spain striker Salva.



Coach Antonio Tapia is expected to select from Arnau, Goitia, Litos, Alexis, Valcarce, Fernando Sans, Cesar Navas, Gerardo, Antonio Hidalgo, Romero, Manu Sanchez, Duda, Miguel Angel, Juan Rodriguez, Nacho, Pablo Counago, Paco Esteban, Edgar, Salva, Geijo.



Steve Cotterill looks set to welcome back Micah Hyde who missed out on the win at Accrington with a slight injury although the game could come just too soon for Danny Karbassiyoon who was also ruled out on Wednesday.



Macedonian Artim Sakiri is still at the club and is expected to feature and apart from Micah it is likely to be the same squad as played at Accrington with youngsters Kyle Lafferty and Chris McCann both involved again.



We will choose from: Danny Coyne, Wayne Thomas, John McGreal, Frank Sinclair, Michael Duff, James O'Connor, Micah Hyde, Graham Branch, Ade Akinbiyi, Wade Elliott, Brian Jensen, Garreth O'Connor, Gifton Noel-Williams, Artim Sakiri, Kyle Lafferty, Chris McCann.