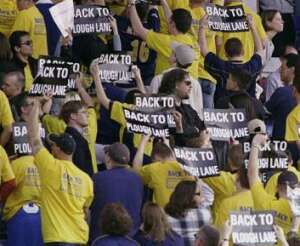 Wimbledon fans protesting at the last game of last season
An independent commission set up by the Football Association on behalf of the Football League has decided that Wimbledon Football Club can now move to Milton Keynes, a decision that favours Wimbledon chairman Charles Koppel and entrepreneur Peter Winkleman and just about nobody else. It is not surprising that these two see it as a way of making money and have shown no regard whatsoever to those who care about Wimbledon Football Club.
No matter what anyone says and no matter what exceptional circumstances there are supposedly surrounding Wimbledon this has granted permission for franchising in English football. Authorities can say otherwise but the precedent has been clearly set now and if Barry Kilby wanted to move Burnley Football Club to Lands End next year there seems to be nothing at all now that could stop him.
This web site has said before and will repeat that this move for Wimbledon fans is just about the same as if the Clarets had to play every home game at Stoke.
It isn't often that one club speaks out against another's plans but the Clarets chairman had this to say about it back in January,
"Although the Wimbledon owners would argue that this move is necessary for the club to survive, our view at Burnley Football Club is that this type of American franchising cannot be allowed into the English game.
"Can you imagine the Burnley Board of Directors deciding to 'move' the Club to some football starved conurbation in the south-east, where the commercial prospects were much brighter?
"Football League clubs should represent the communities that they come from, regardless of whether they are large in numbers or affluent in economic terms, The minute we lose that link is the moment when this passionate sport of ours crosses the line into becoming a meaningless arm of light entertainment."
The Football League had previously refused this move and the Football Association were against it so why on earth has it been allowed by a commission of people who clearly have no idea what football clubs means to the supporters?
The members of this commission should hang their heads in shame at the damage they have today done to English football.